This page is under development...
Preparing students for success
Basic computer and network technical specs
Configuring for Online, Hybrid and In-Class learning
Headsets and peripherals
Screen/Window setup for using iSee along with other applications
Assessing student support needs
Supervisor training
Supervision environment
Building digital literacy
Assessing student digital literacy
Building iSee competancy

Licence approach
Social activity integrated approach
Lesson activity integrated approach

Digital literacy and cyber safety
Combining iSee with wider digital literacy
Designing and running a great class
Designing great iSee lessons
Example lessons and use cases
Teaching and trouble shooting
Sections:
Setting up your iSee session

Auto-setup via a linked Learning Management System
Manual setup using the iSee Management Portal

Ensuring network and device access
Setting up any accompanying technology, software or hardware
Designing great iSee lessons
iSee is likely quite different from any learning environment you have experienced before. The objective of this section is to help you expand your practice to understand iSee's strengths and the principles of good lesson and activity design that will help you with your approach. If we get this right, use of iSee for either virtual learning or a classroom digital activity can be transformative for student engagement and long term success.
More than anything, iSee is an opportunity.
It's an opportunity to rekindle and grow positive relationships
It's an opportunity for students to build meaning, accomplish and become
It's an opportunity to create learning places where students feel they belong
Helping you create these opportunities is iSee's purpose
As a teacher - capturing these opportunities for yourself and your students comes when you understand how to design iSee lessons and activities that harness iSee's unique capabilities to transform your education experience with your students.
Design lenses
1.
Principles in lesson design for iSee:
Individual agency
Social and Emotional engagement
Teamwork
Sense of place
The nature of games - infinite and non-zero sum games
1. Is iSee the right tool for your purpose? - Purposeful pedagogy checklist (based on feedback from Beth Hodson at Aurora)

iSee is a great choice if your activity involves:
Student-Student interaction such as group work and relationship building
Exploration and engagement
Student agency and inquiry
Relaxation and play
Sense of place
3D content or immersive experiences
Curation and co-creation/construction
Other solutions may simpler for:
Direct instruction
Oral presentations/Lectures/seminars
Structured meetings with a sequential speakers
2. Being clear with the goals fo rthe lesson

Example classes and lesson plans
Overview - these example lesson plans are based on classes developed by iSee users, but have been generalised to protect intellectual property and aid in adaptation to specific needs.
Socialisation and wellbeing class/home room for isolated and anxious students (NT schools)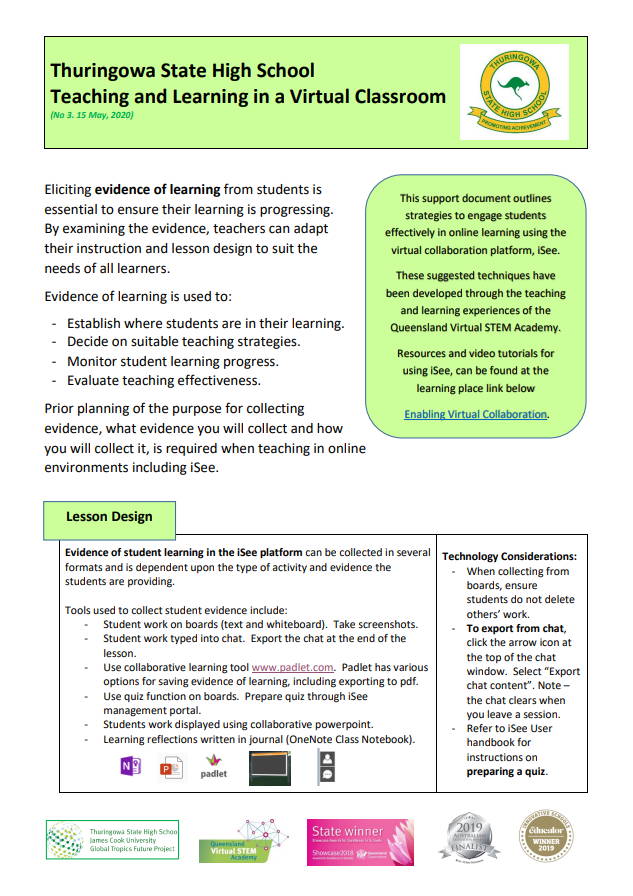 Team collaboration challenge using inquiry and project based learning for STEM engagement and deep learning (QVSA/Solid Pathways)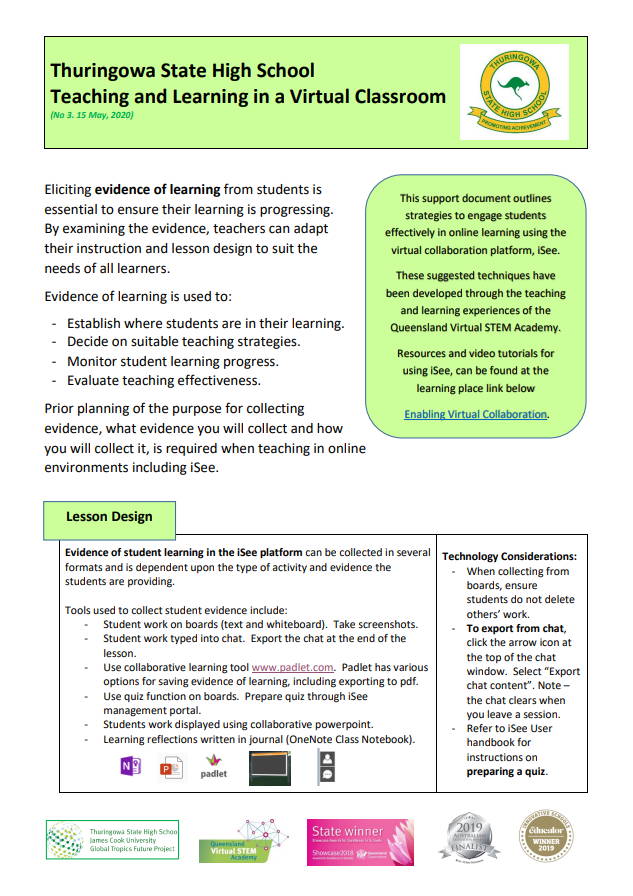 Creating, currating and critiquing a showcase of class work for internal or external use (Aurora College)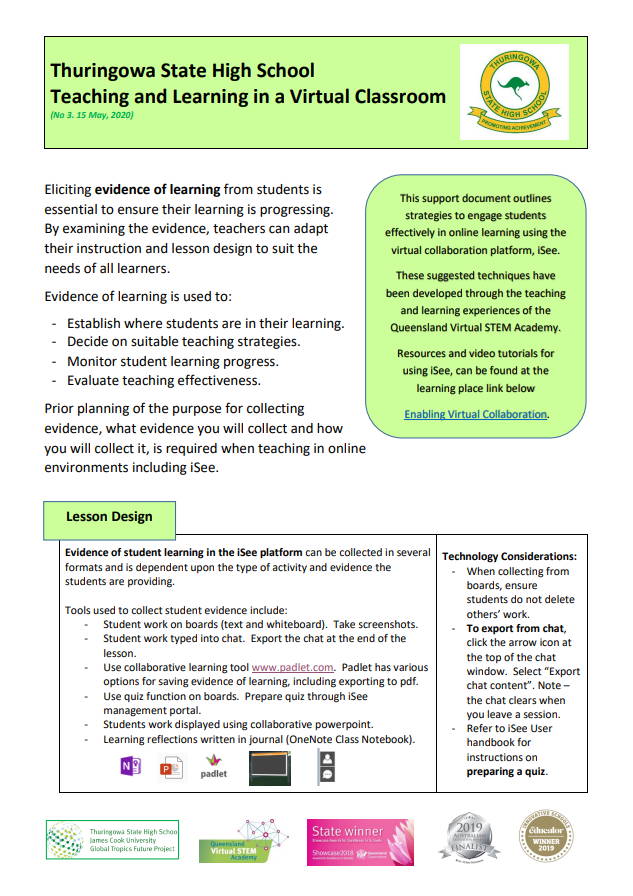 Using gamification to increase engagement, practice and cultural context for language learners (Qld VLA, NSW Languages trial)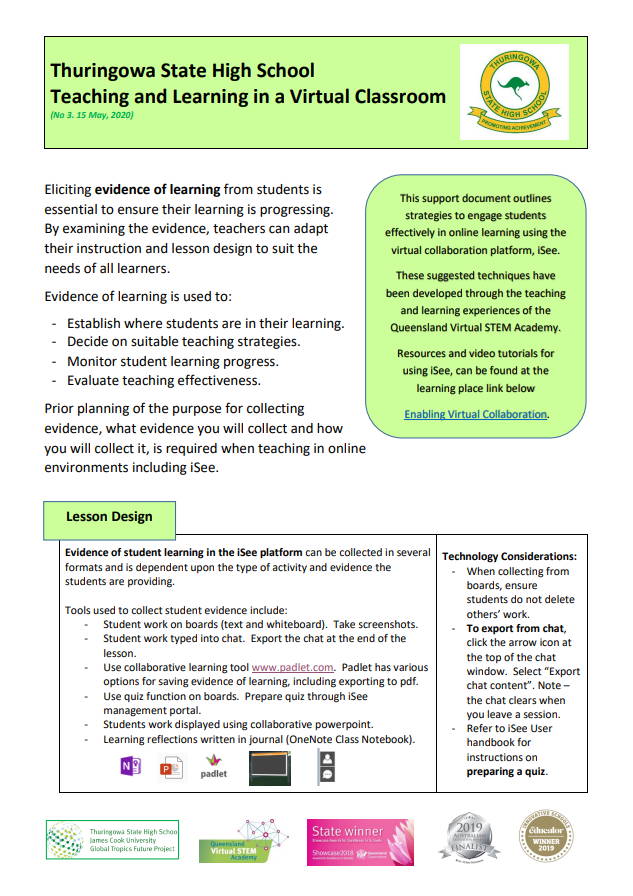 Co-creating the learning space with students for cultural and social engagement (Aurora Indigenous project)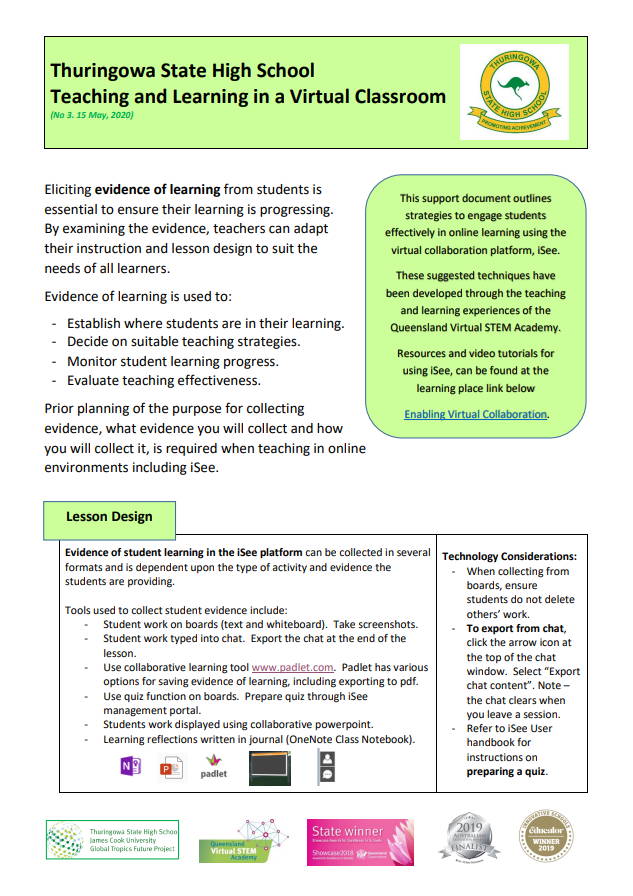 Capturing the process of student learning while collaborating with AI (proposed in discussion with Sarah Prestridge)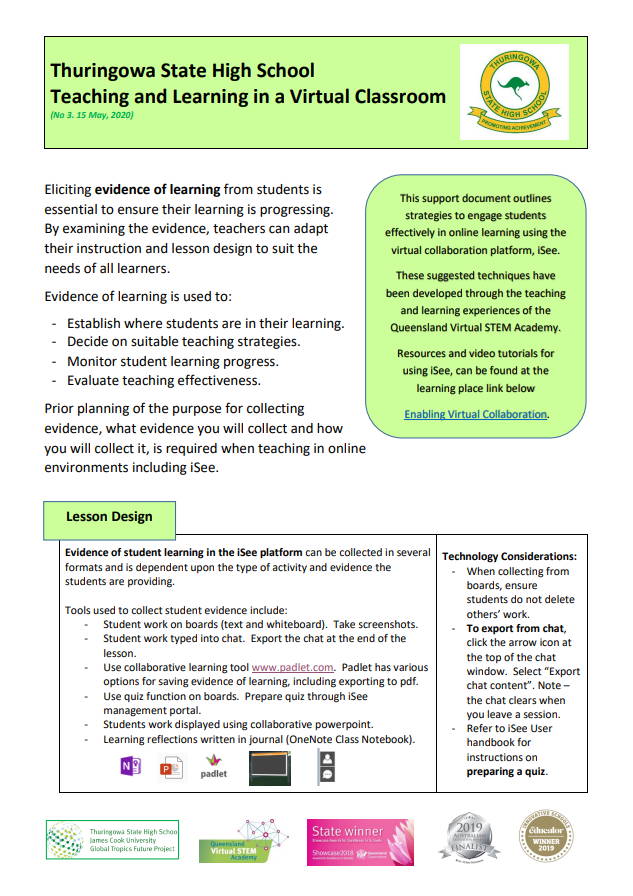 Taking your class on a virtual excursion to support learning goals (QVSA)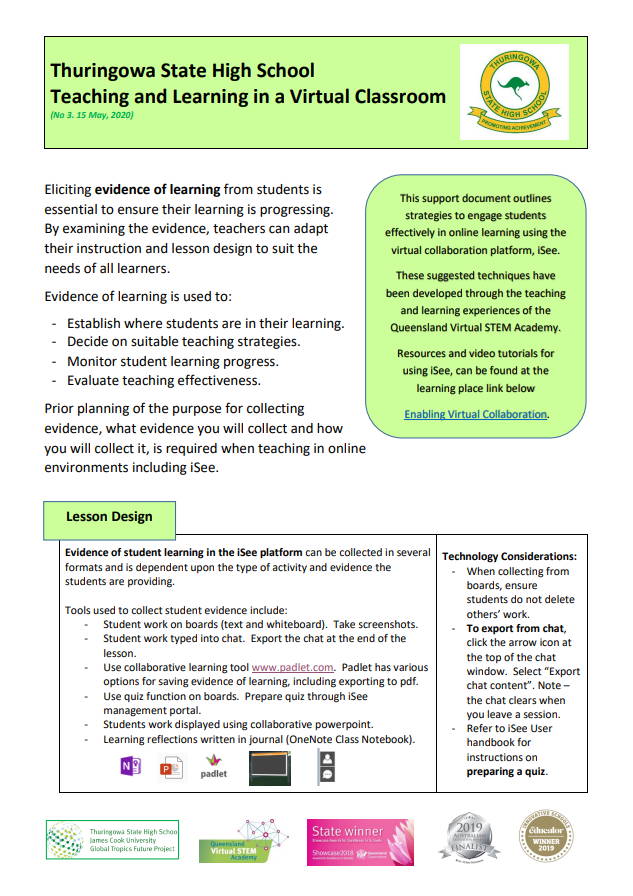 Preparing students for a virtual or face to face debate (Aurora)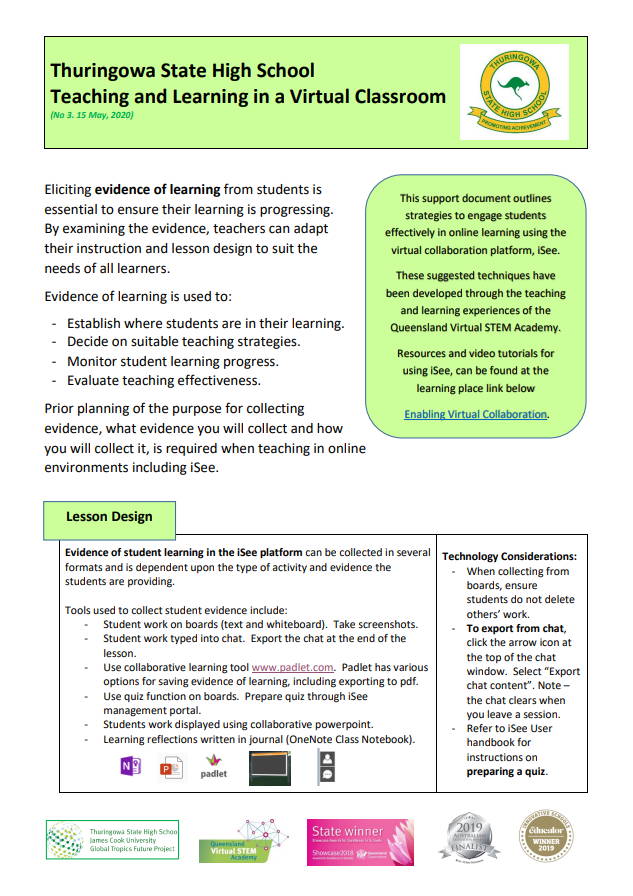 Setting up successful club activities to support student interests and social development (STEM Girlpower - also proposed by BSDE and VSV)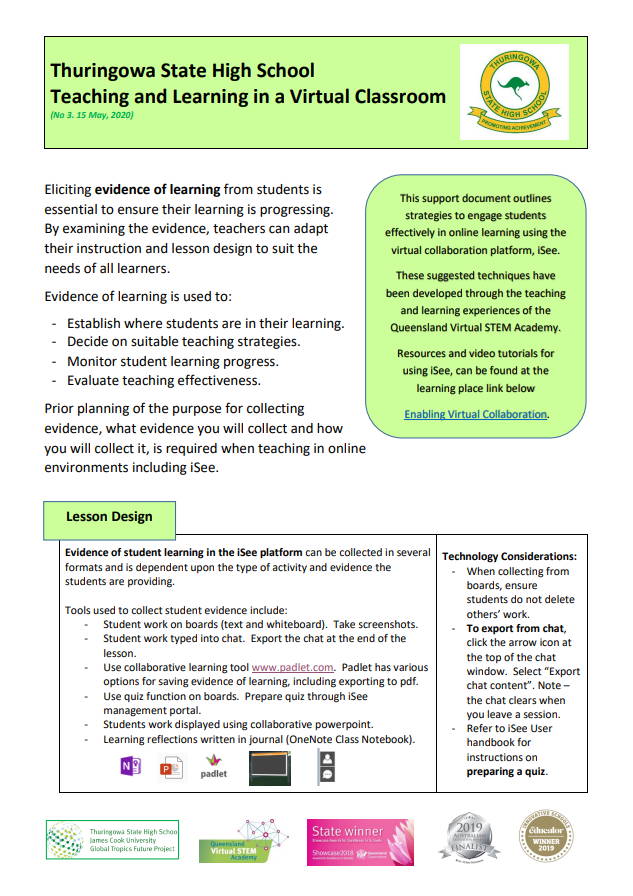 Engaging math lessons using peer learning and instruction (Aurora - jigsaw math lesson)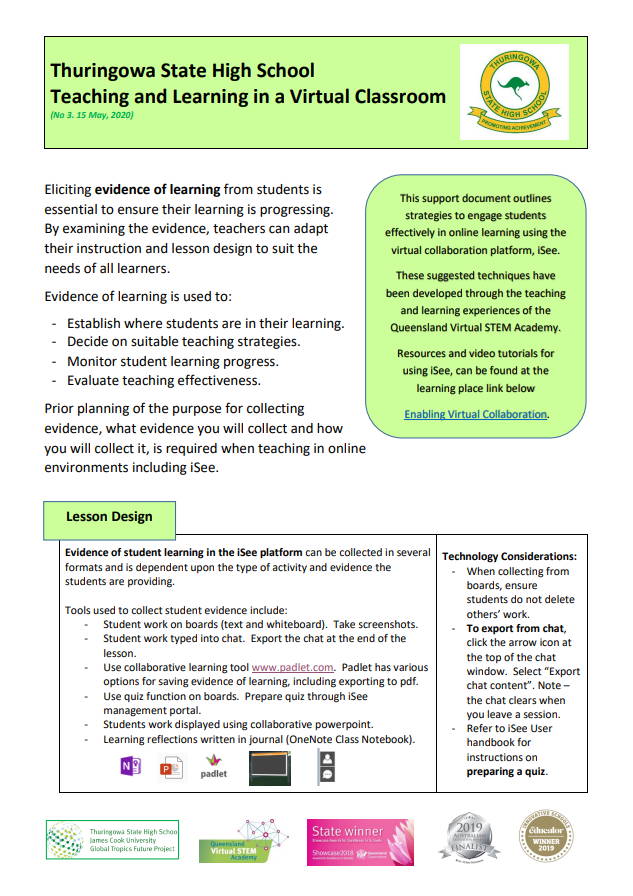 Students build a 3D model and share it with friends (QVSA)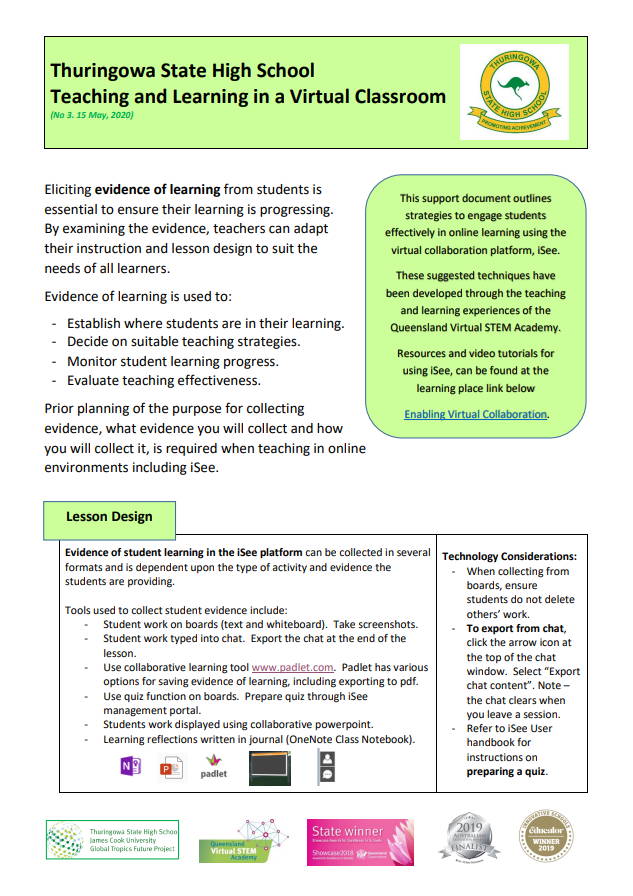 Immersive experience creation
Students work in teams to develop an interactive immersive experience that demonstrates mastery of a topic area (proposed with Sarah Prestridge and Ormiston College)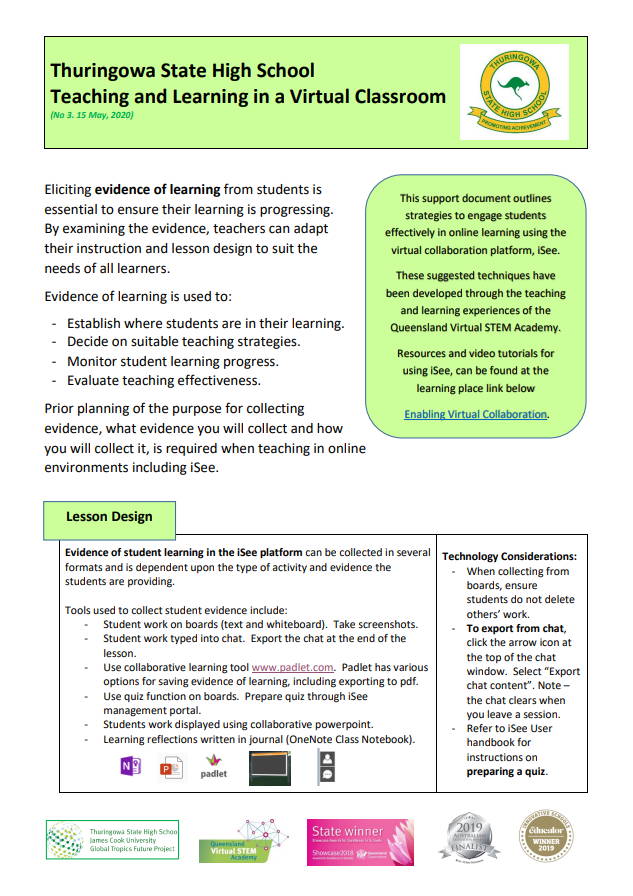 Teaching and trouble shooting
Sections:
Executing your runsheet
Picking up and managing problems early
Diagnosing issues and finding help
A great way to deepen learning, get students talking (even the shy ones) and put students 'in' the problem.
Pose a question and give the students time to reflect and gather their key points - usually 1-5 minutes. Then have the students move into pairs and find some space to share their thoughts with each other - noting differences in responses and any questions arising.
Now that the students have derisked sharing their responses you can bring the class back together and have them share with the wider class.