1. Make sure your headset microphone and webcam are plugged in
iSee uses your default webcam and audio devices so make sure that they are plugged in each time before launching iSee.
A headset/earphones with an integrated microphone will minimize your background noise and get the best from the directional audio. For more information on headsets for iSee click here.
2. Download and install iSee
Check your system requirements and select your operating system to download iSee. Some education and corporate users will have the iSee client available for installation from their internal software catalogue.
Open the iSee installer and follow the prompts to install iSee onto your computer.
*Note - This requires administrator access on the machine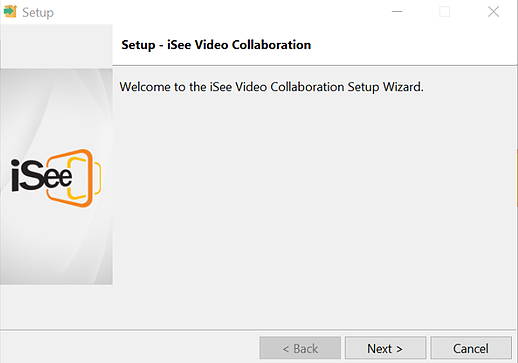 Click OK and you are ready to start using iSee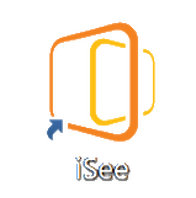 3. Join your iSee session
Using a course link or guest invitation
If your school or organisation has sent you the details of your iSee account with a username and password, then you can open iSee and log in. Once logged in you can choose which of your enabled sessions you want to enter.
If you have been sent an iSee 'meeting ID' then open the iSee Hub and paste the meeting ID into the Meeting ID box. You can optionally enter your username and password (if you have an iSee account) to access the session with your iSee profile.
First you will need to ensure iSee is installed on your machine. If you are following a link or have been sent a link by your organisation, click the link to be directed to our One Click Launch page. You can enter with your iSee account (if you have one) by entering your username and password and then clicking "Continue. Alternatively you can enter as a guest by clicking "Enter as a Guest".
After you accept the terms and conditions, you can click "Join Now" which may prompt a pop-up asking whether you would like to open the iSeeLauncher, Click "Open iSeeLauncher" and you will be taken to the iSee application (if it is installed on your machine).
If you are having difficulty entering your iSee session please contact your host organisation or meeting organiser for assistance.
Being in iSee is just like being in the real world, where your voice fades out with distance and you walk around to talk to others and look at what interests you.
There are a bunch of easy ways to move around in iSee - here are some of the easiest and best to get you started.
One of the easiest ways to move is to use the arrow keys at the bottom right of your keyboard. If you are a gamer you might also want to use the WSAD keys. You can also jump by using the spacebar.
Note that the keyboard movement controls are automatically disabled when your mouse pointer is over a content board. So if your keyboard controls suddenly seem to stop working, move your mouse pointer away from any boards and the controls will work again.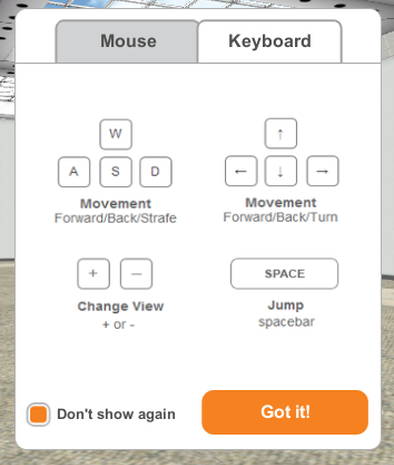 You can use your mouse or touchpad to move around. Left click and drag with your mouse to look around. To walk you can double click on the ground where you would like to go, or you can right click (Ctrl + click for Mac) and choose either walk or teleport to get there.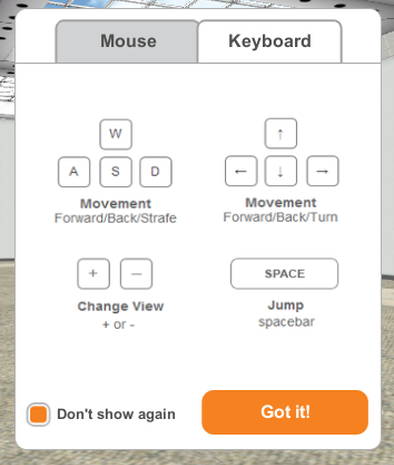 The auto arrange feature creates a series of seats to help people arrange themselves. To take one of the seats, right click on a seat and select 'Take Seat'. You can turn to each side while in the auto arrange seating, but can't move forward or backward. To exit the auto arrange seating at any time click the 'Exit' tab at the top of the window.
5. Controlling audio and video

To mute yourself simply click on the icons in the top right corner of the iSee window to mute your microphone, speakers or camera.
If your background is noisy it's best to switch to 'push to talk' mode to make it easier for other people to hear.
After selecting the 'push to talk' mode from the top right hand pull down menu, you need to hold down the microphone button in the bottom center of the window and turn it green while you talk. You can turn it green by holding down the left mouse button on the microphone icon while you talk, or holding down the 'T' key while you talk.
Your microphone is live while the button is green and off when it is white.
If someone near you is making a lot of noise you might want to mute them so that you can better listen to others. To mute their audio simply click on the speaker icon on their video feed. This only mutes them for you and they are free to keep talking to others.
If your bandwidth is very limited you may want to mute a persons video feed so that you don't have to download it. You can do this by clicking on the camera icon on their video feed.