The Invitations tab allows you to view, create and edit your iSee guest invitations.
To have access to the invitations functions of iSee you will need to have Organisation Admin or Session Admin privileges attached to your user account. Contact your organisation administrator to have these privileges set.  
To create a new invitation choose 'Invite' from the Invitations drop down menu. A popup window will appear to create the invitation. Note that this is the same popup window that will appear if you choose the 'Invite participants' in the iSee client, except that the Session field is not pre-filled.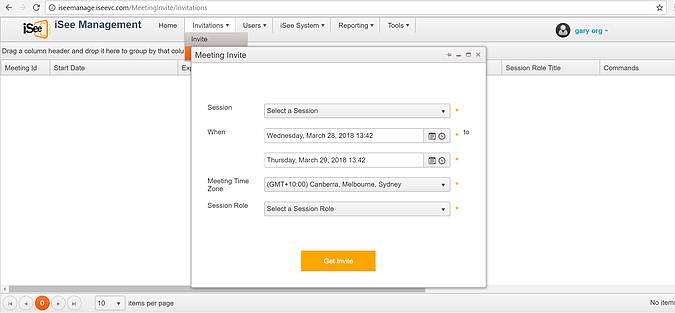 Complete the invite form to create the invite.
Note that the invitation is for a single session in your organisation for a specified period of time. Anyone you send the session link to will be able to access the session, there is no need to create individual invites for each person you want attending.
The sessions are persistent, so you can create several invites that cover different time periods for the same session. Whomever receives the particular invite will be able to enter the session during the time period denoted in the invitation.
Note that the default time zone is GMT+10 and will need to be changed if you would like it to set the time for a different time zone.
Select a session role from the options available for your organisation. These roles allow for access/restriction to different features in iSee. You can find more information on user roles here.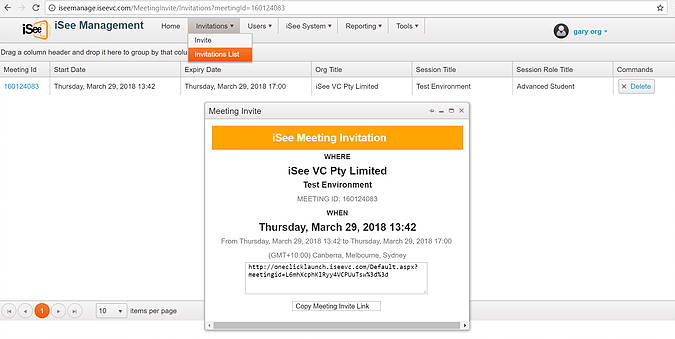 Clicking the 'Get Invite' button will create the invite and give you both a nine digit MEETING ID and One Click Launch weblink.
If the people using the invite are experienced iSee users then it is only necessary to send them the nine digit MEETING ID which they can enter into the iSee Hub to access the session.
If they haven't used iSee before you can either send them the One Click Launch weblink which will direct them to a webpage where they can find both the meeting ID and a link to download and install the iSee client - or you can send them the nine digit meeting ID and instructions to go to getting started for the iSee client. To use the One Click Launch, click on the Copy Meeting Invite Link button and paste the weblink into your message.
​Note that as you have now created the invitation, it now also appeared in your Invitations List. You can edit it by clicking on Edit, or delete it by clicking on the Delete button. The Invitations List only displays invitations that you have created, and only those that are currently active. If an invitation has timed out it will not appear in your invitations list and you will need to create and send a new one.
---