Queensland Virtual Environments
Every session created in iSee has a specific environment map assigned to it. There are a range of 3D virtual environments to use. Some are standard environments within iSee, and some have been specifically built for the Queensland Department of Education.  
A school or organisation may have a large number of sessions, each with an environment map chosen specifically to meet the learning or social engagement goals of the teachers and students involved. A school for example may have separate iSee sessions for each class, teacher or project group. You can therefore think of iSee sessions as building blocks to an infinitely expandable school campus.​​
In addition to individual environments, we can combine a number of environments together as zones within a multi-zone environment session. A number of these are available to encapsulate a larger variety of use cases.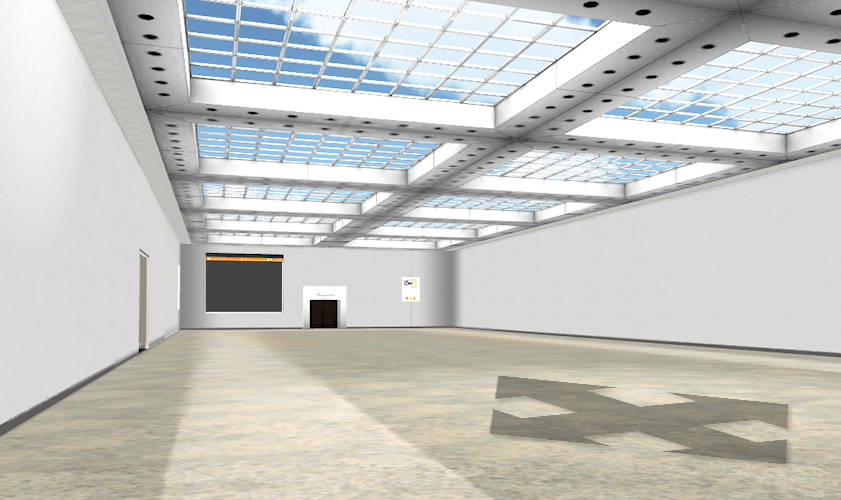 The dynamic room is simple, but powerfully adaptable to your needs. The size of the Dynamic Room can be changed on the fly to suit the activity and large numbers of display boards can be added to the walls at will. This room is ideal for tutorials, group work, meetups, art galleries and trade fairs.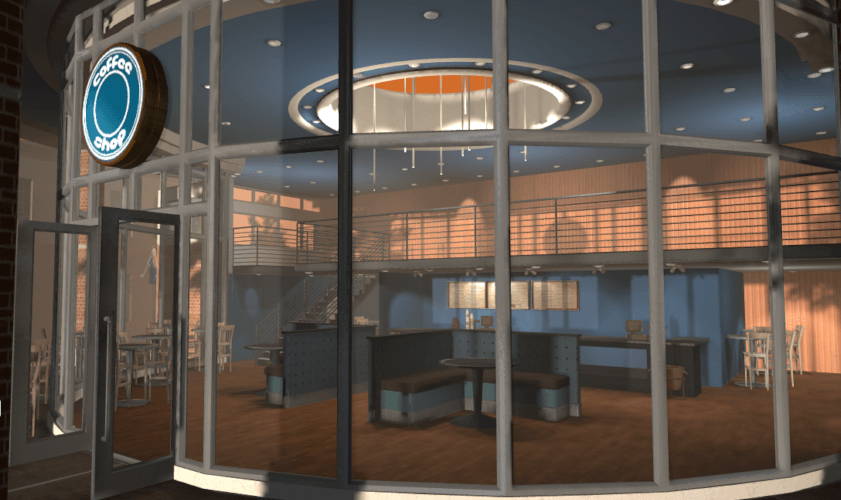 The coffee shop is an ideal casual meeting place where it is easy to split up a larger group for more private conversations.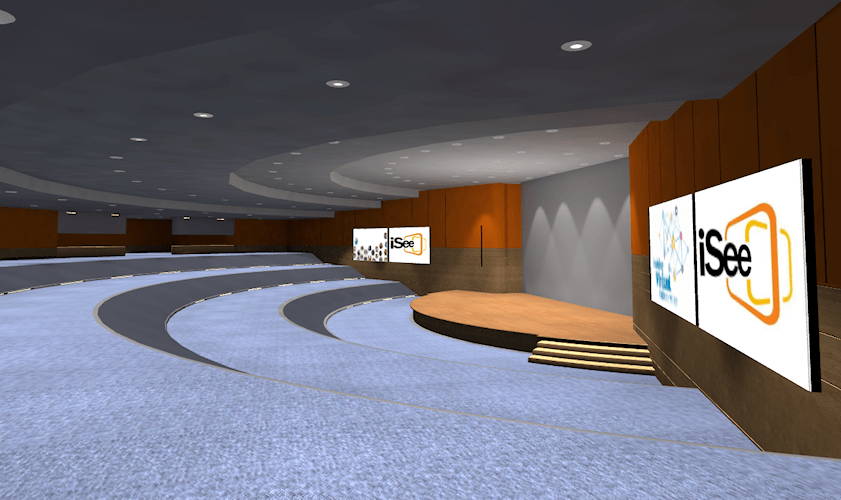 The lecture theatre is an ideal space for larger scale, more formal presentations, lectures, demonstrations or performances. This can be a key component of a virtual conference venue or education campus.  
Lecture Theatre with Tables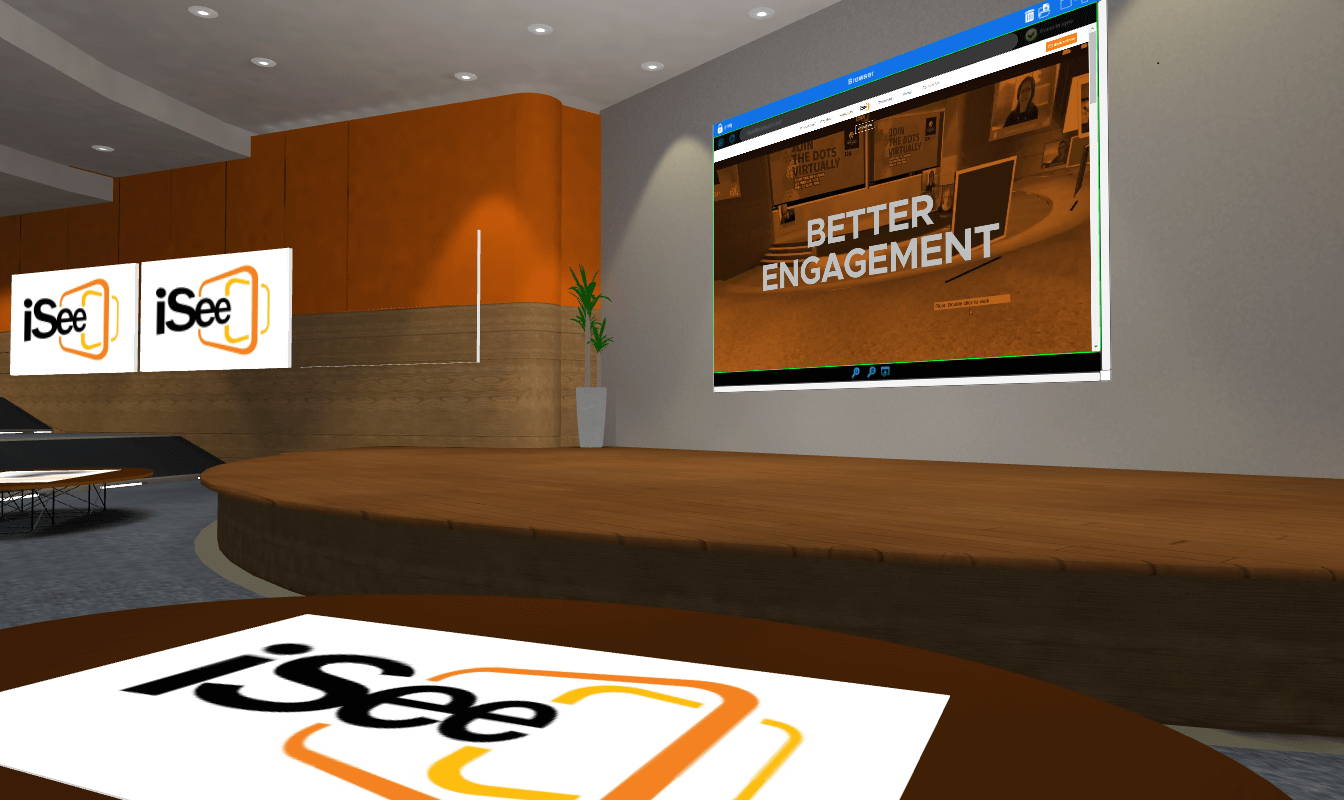 The same as the Lecture Theatre except it features built in tables with customisable signage. Ideal for workshop and networking events, allowing for each organisation or department to have their own table that displays their logo.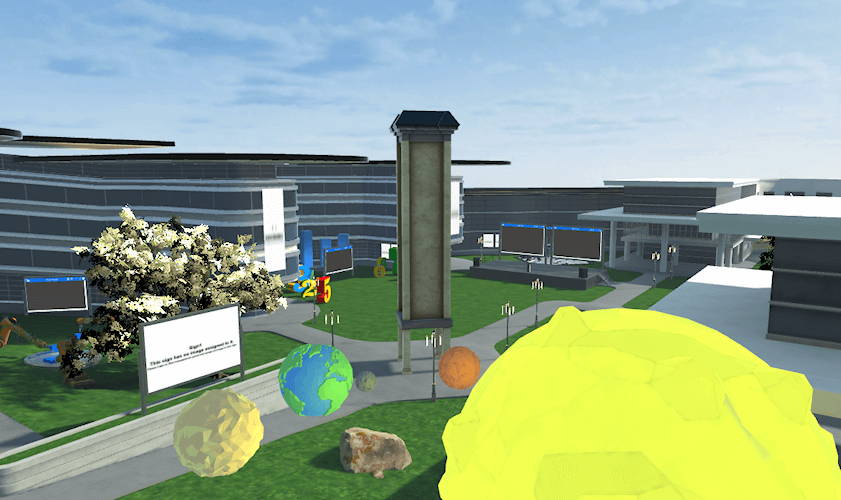 The STEM Social Area is a spacious and fun outdoor area that encourages exploration and puts everyone in the mood for STEM thinking - There's even a ferris wheel! It has a central presentation area as well as breakout boards throughout the space to empower group and peer learning pedagogies.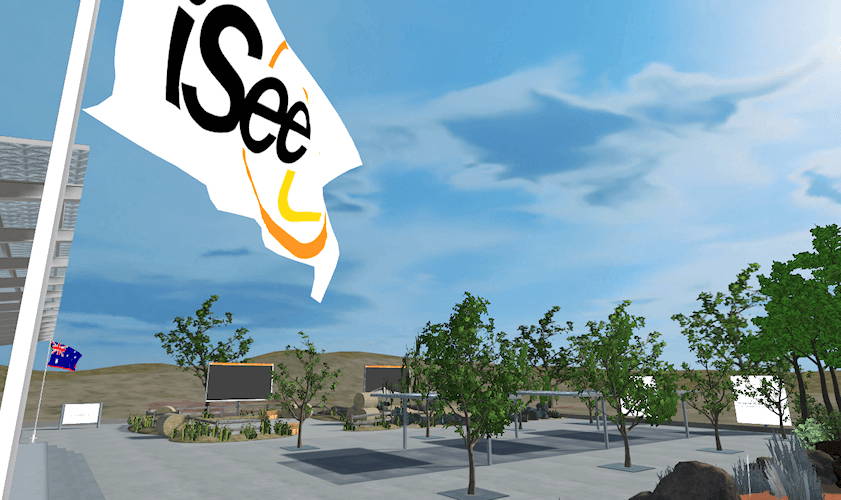 The outdoor world is an interesting, spacious and well appointed meeting place for young and old alike. Originally designed as a free play area where young distance education students could play and make friends, it is now a popular environment for dynamic workshops, ice breaker activities and relationship building where people want to feel free to discover new ideas and seamlessly move between small and large groups.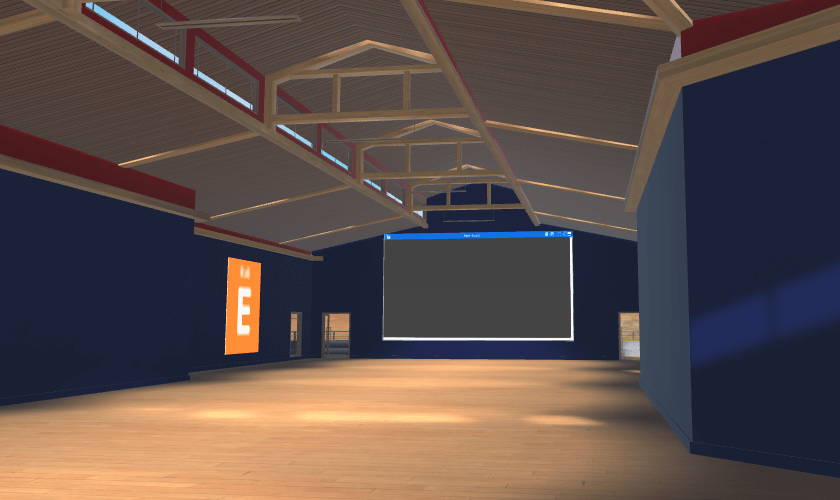 The general purpose area is an ideal space for trade fairs, group work, pitch sessions, careers expos and product expos. It has seven side halls that are linked via a main hall. It has plenty of signage boards that can be used for product or sponsor images.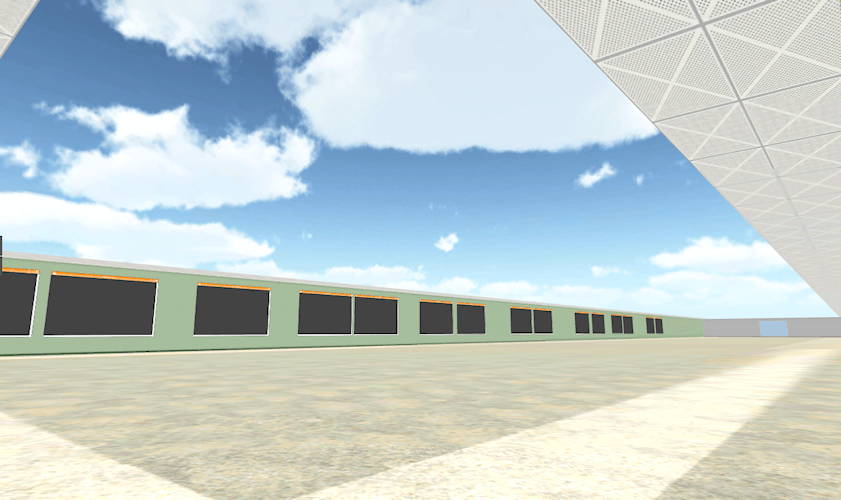 The poster hall is a long, outdoor room ideal for galleries, exhibits and poster sessions. Keeping the room rectangular creates a natural path for attendees and keeps them together enough to stimulate discussion and idea sharing opportunities.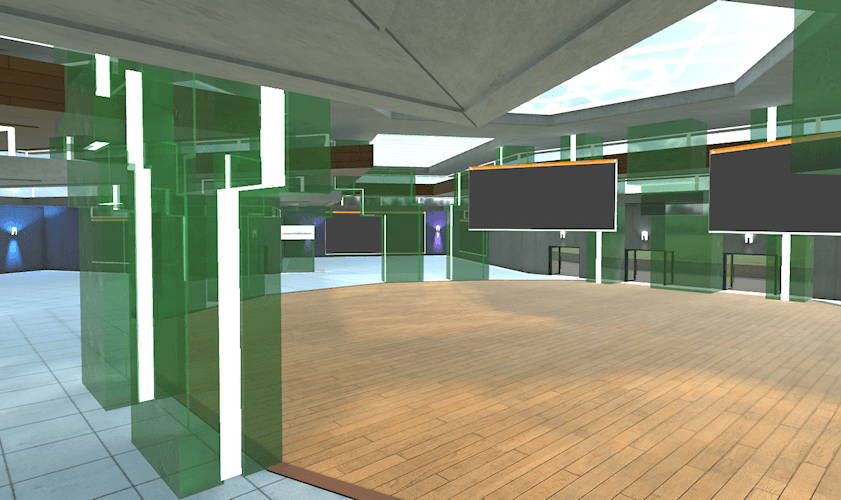 A large indoor space with five colour-coded alcove rooms surrounding a central presentation space. There are 3 smart boards in each of the surrounding rooms and two in the centre .The central space is defined by transparent green walls allowing for visibility of all five surrounding rooms from one location. Great for class activities that oscillate between whole of class briefings and group/individual work.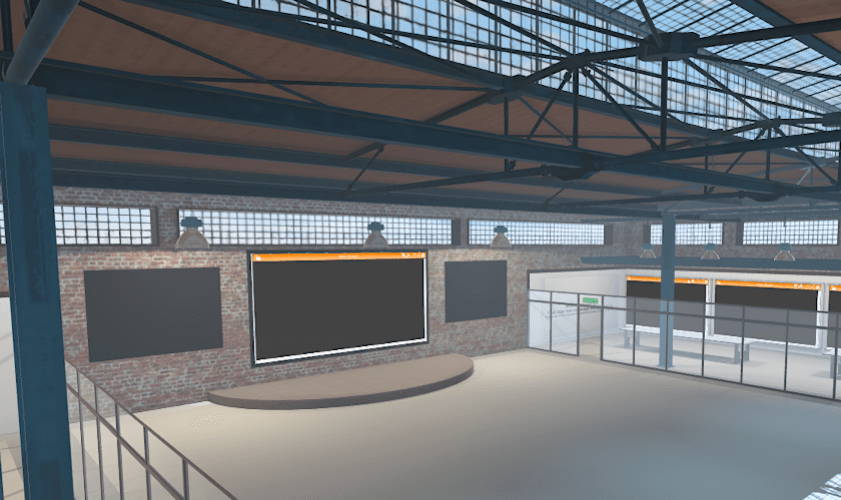 The Lab Space is a medium indoor space with a small stage in the centre room with three smart boards for presentations. On both sides of the centre space are group work areas behind transparent walls with wall space for many smart boards.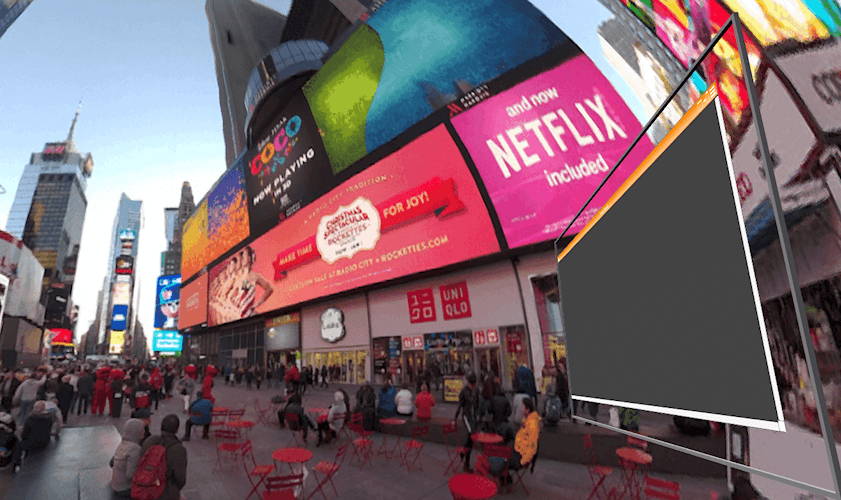 The iSee Holodeck is a fantastic flexible environment that can be whatever you want it to be! Simply upload a 360 image or phone panorama to bring your class or community together in your custom world. Perfect for virtual excursions and tours, putting learning in context, or simply making your daily classes/meetups more relaxing and interesting. Smart board functionality in the space allows for content sharing as well.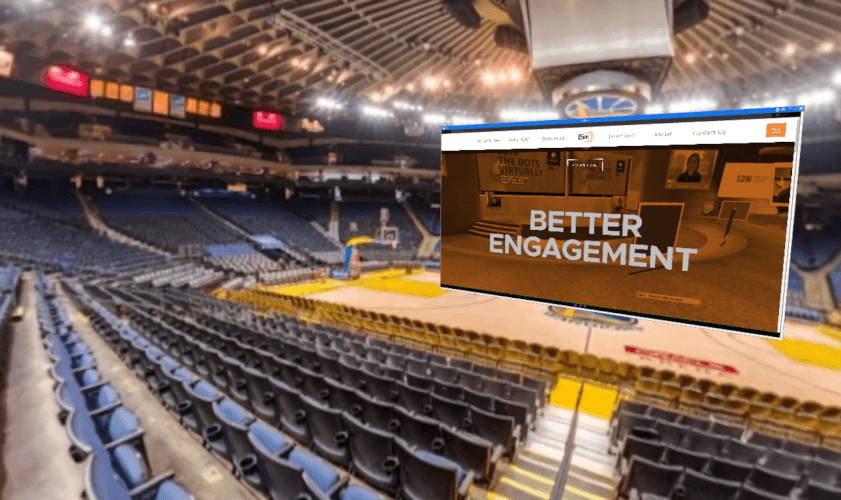 The Holotheatre is essentially the same as the holodeck with larger dimensions for both the room and the smart board area. The floor is sloping towards the smart board area to ensure clear viewing. Great for creating a themed space for presentations or creating your own private planetarium.
On country enables cultural accessibility for indigenous students, staff and community by extending country into iSee. It is composed of a range of Queensland habitats so that people from any nation can feel at home and harness culture for learningAs this environment is indigenous land, users of this zone need to consider these protocols developed by the department in partnership with community before use.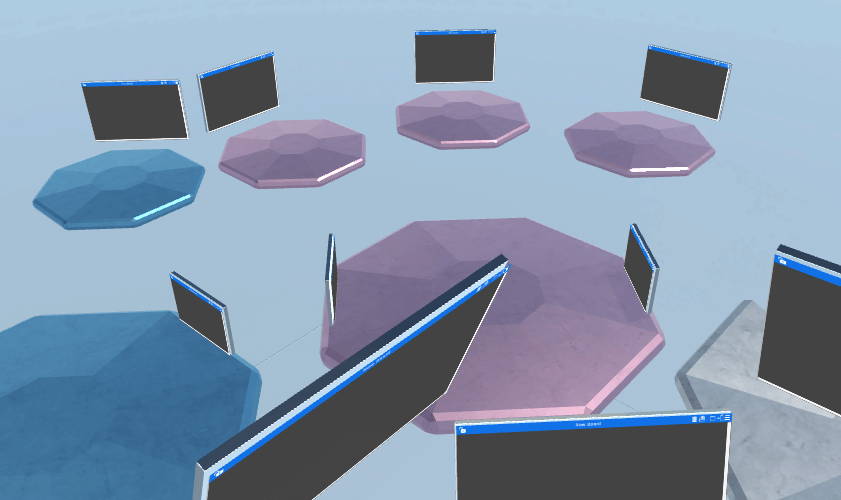 The Inquiry zone is designed to help students think out of the box and engage with topics from a new perspective. For teachers it is a space that supports a range of group and peer learning pedagogies and drives specific thinking modes including hierarchical, linear and non-linear learning, feedback and decision making. It's also really cool to be floating around in the sky!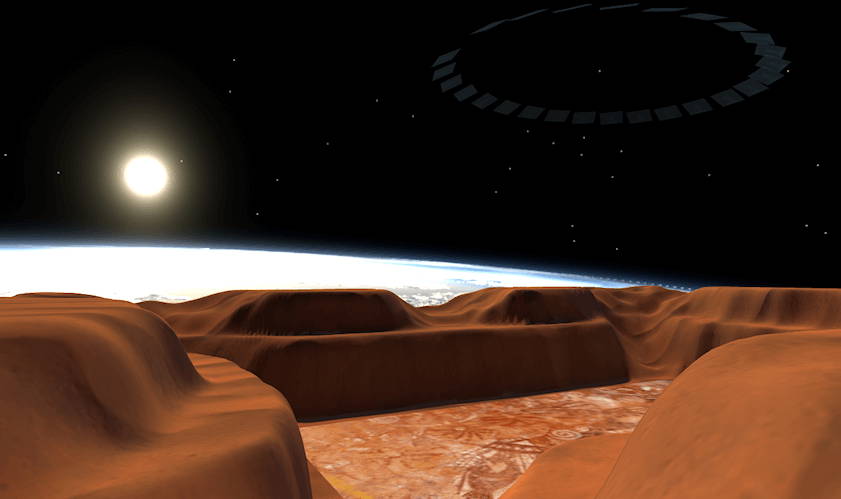 Learning Map is an open, desert themed zone floating above the Earth! It has a large signage board on the floor right in the centre for users to walk on and explore. It also features a seating arrangement floating above the board for an aerial view. Great for thinking about and planning a learning journey.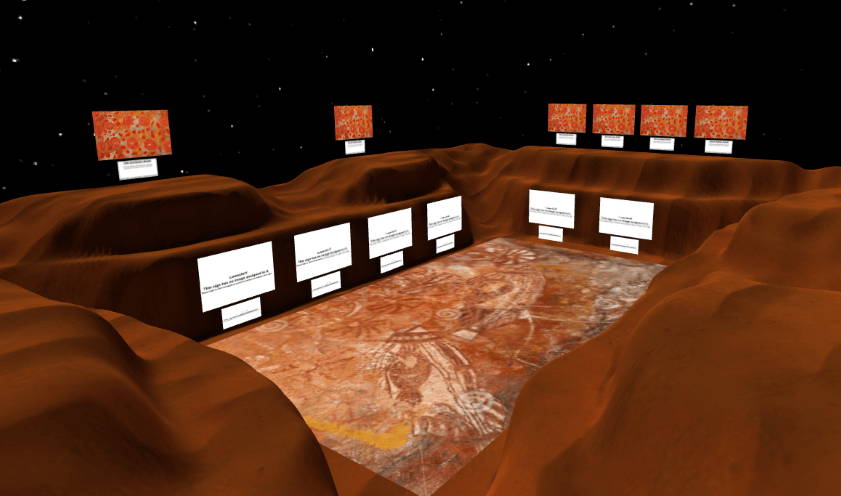 Story Gallery is the same location as the learning map, but with a very different goal. On the outskirts of the inner and outer ring are signage boards designed for displaying artwork, with each frame containing a second board for a label.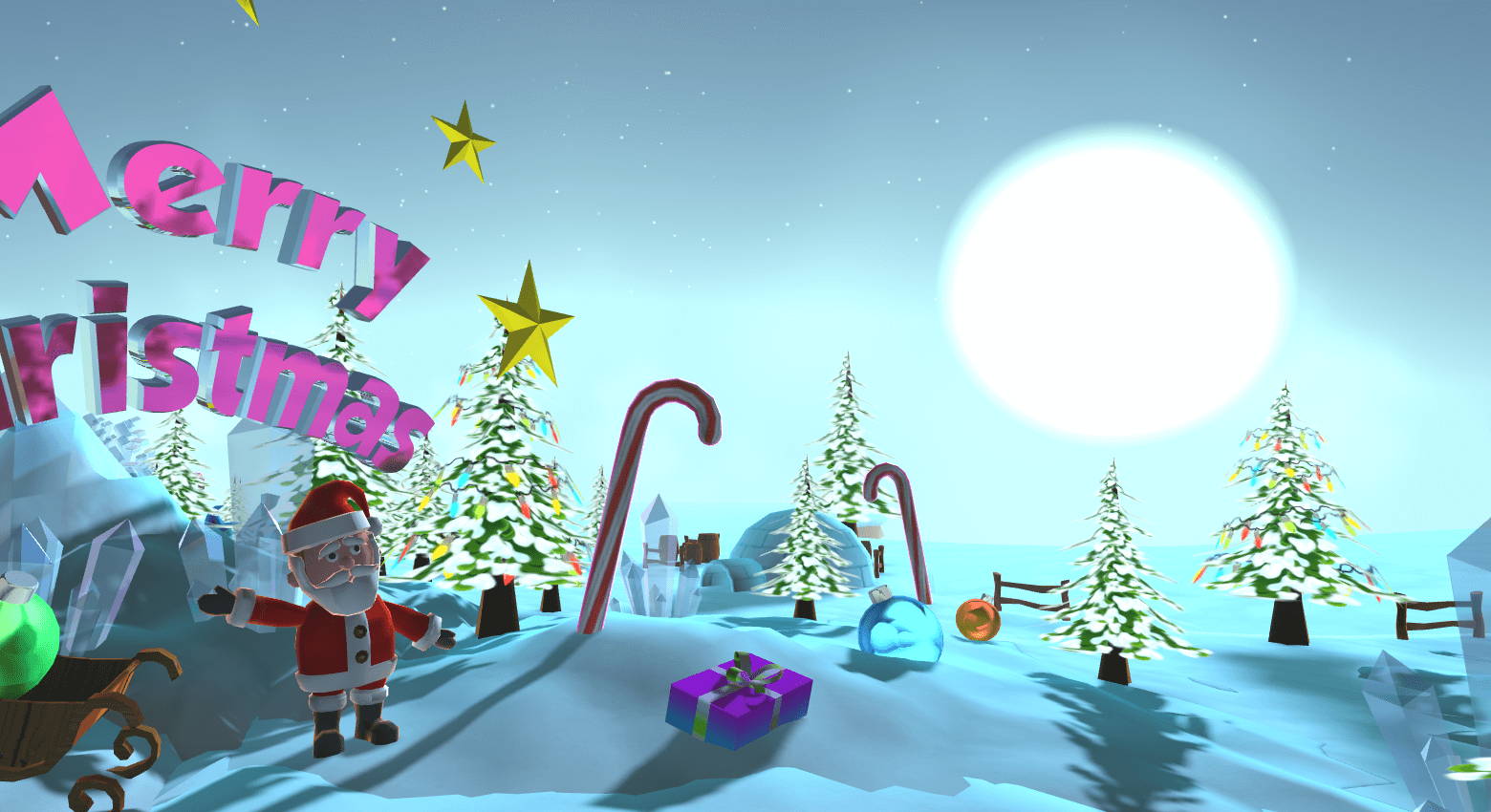 The Christmas environment is a fun play environment for children in the festive season. It is also an example of the wide range of styles that are possible in virtual 3D environments.
Multi-zone environments are a collection of zones that can all be accessed within the same session. This allows for quick travelling between different zones during a session, or simply having different zones available without needing to create a new session.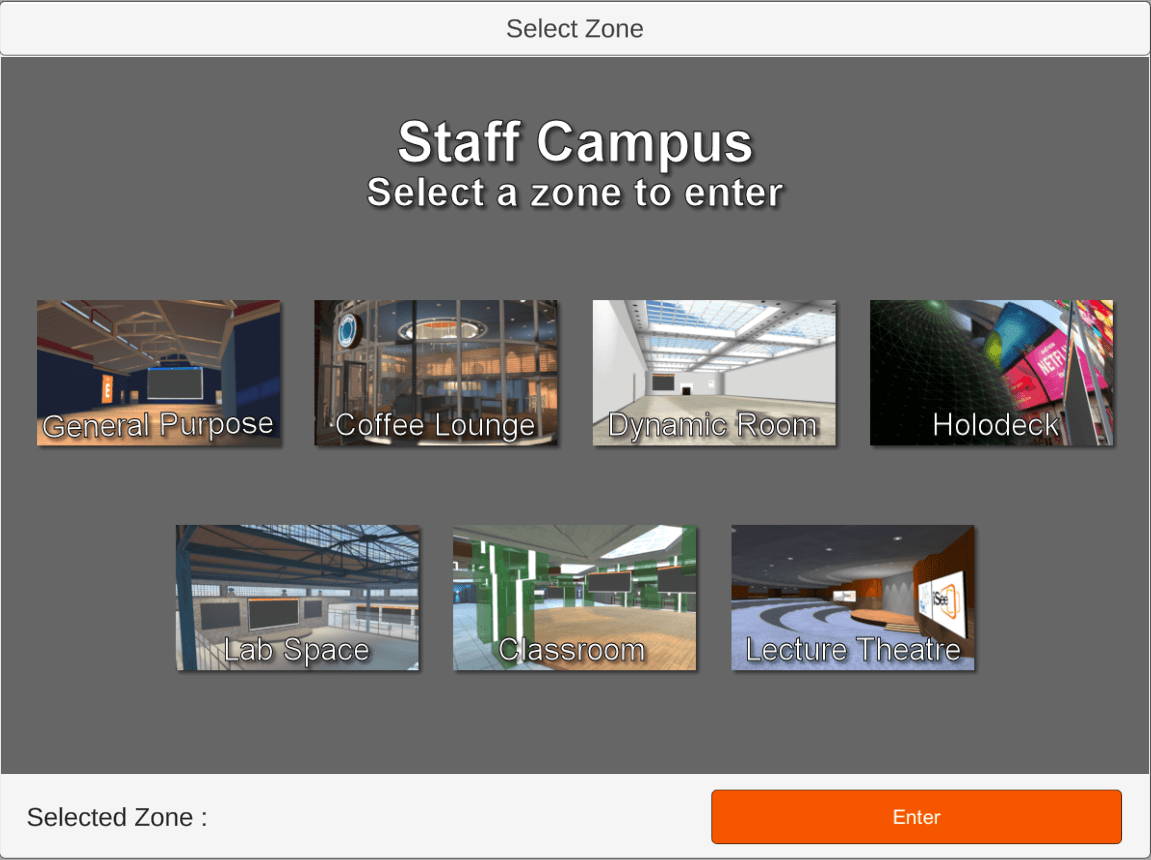 The staff campus has is designed to accomodate any staff gathering, from a social catch up to a workshop or large networking event.
The Conference Campus focuses on providing a range of large spaces to support conference, networking and workshop events. There are spaces for oral presentations as well as displays, networking and workshops...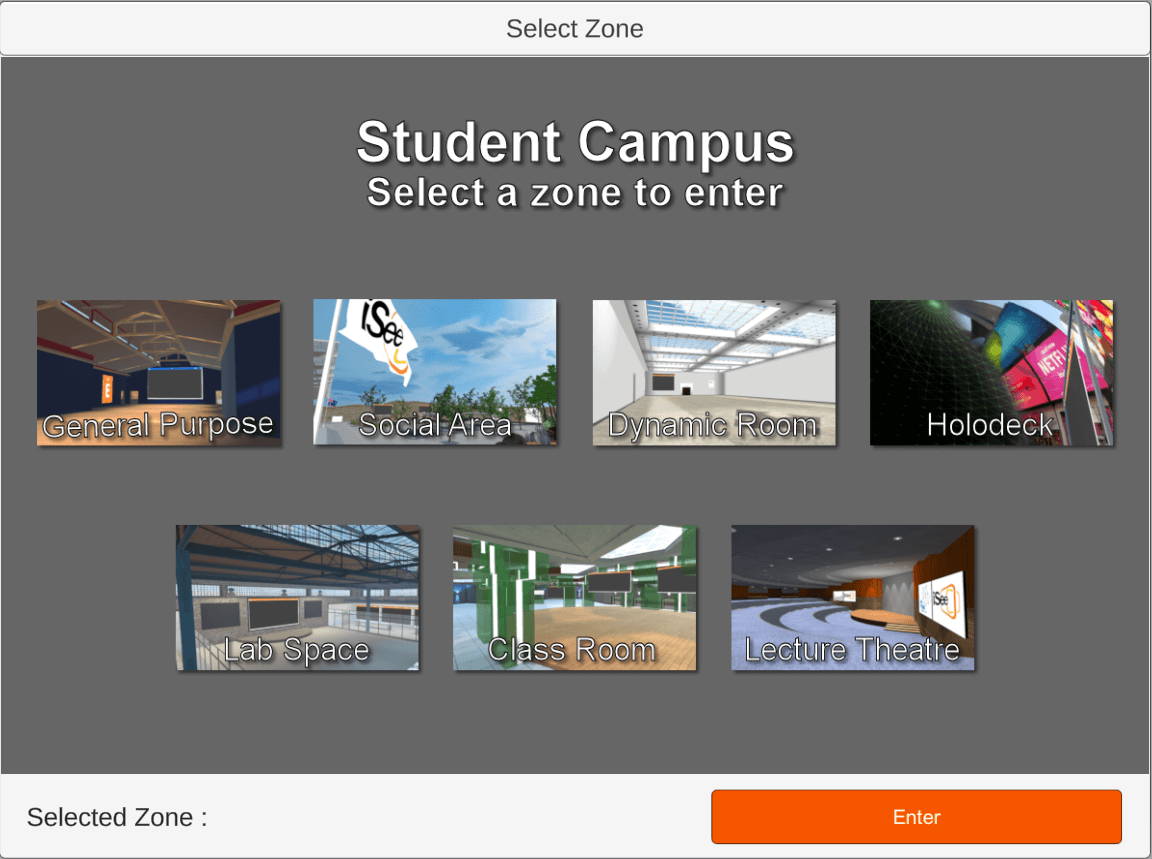 The Student Campus provides spaces to suit many pedagogical purposes. From going on an excursion in the holodeck, to play and relationship building in the social area, class and group work spaces and even a lecture theatre for class presentations.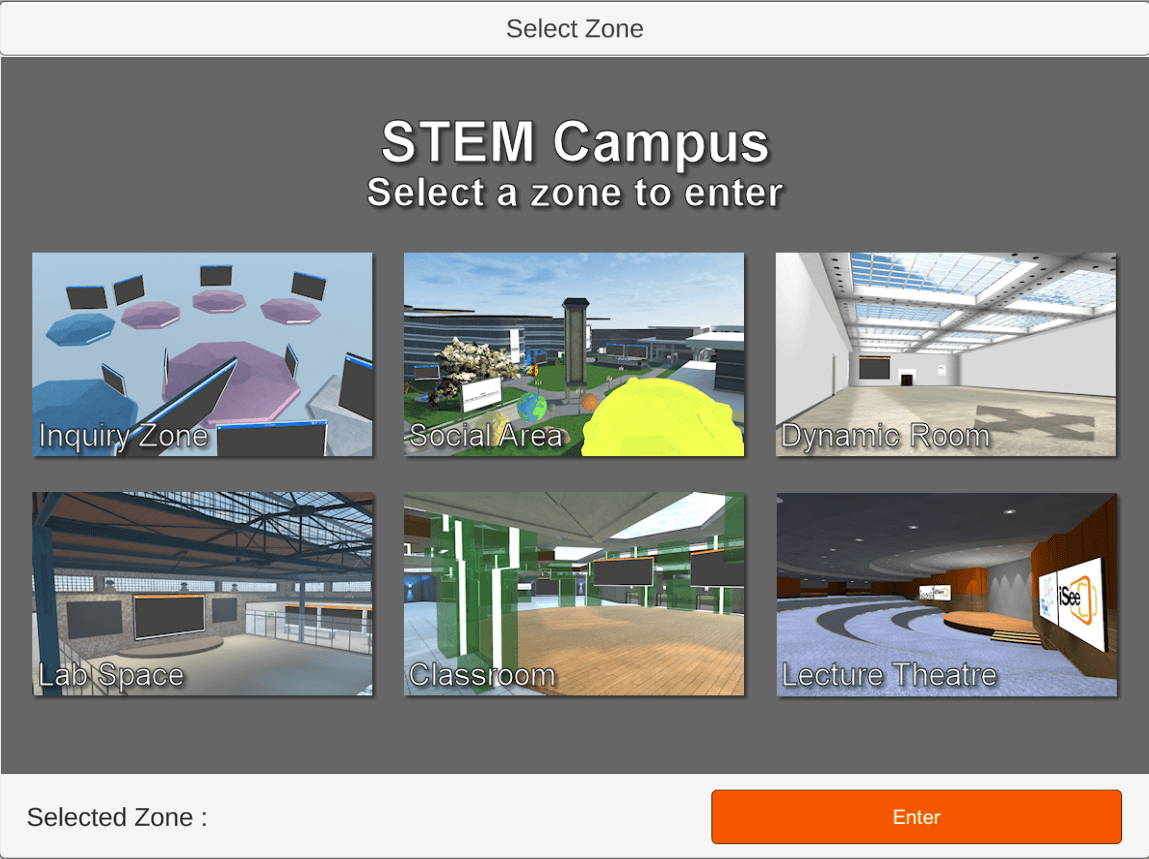 Like the Student Campus, the STEM Campus provides for a range of social and learning activities. However it has a bit more of a focus on group work, collaboration and exploration with a STEM flavour.
STEM and On Country Campus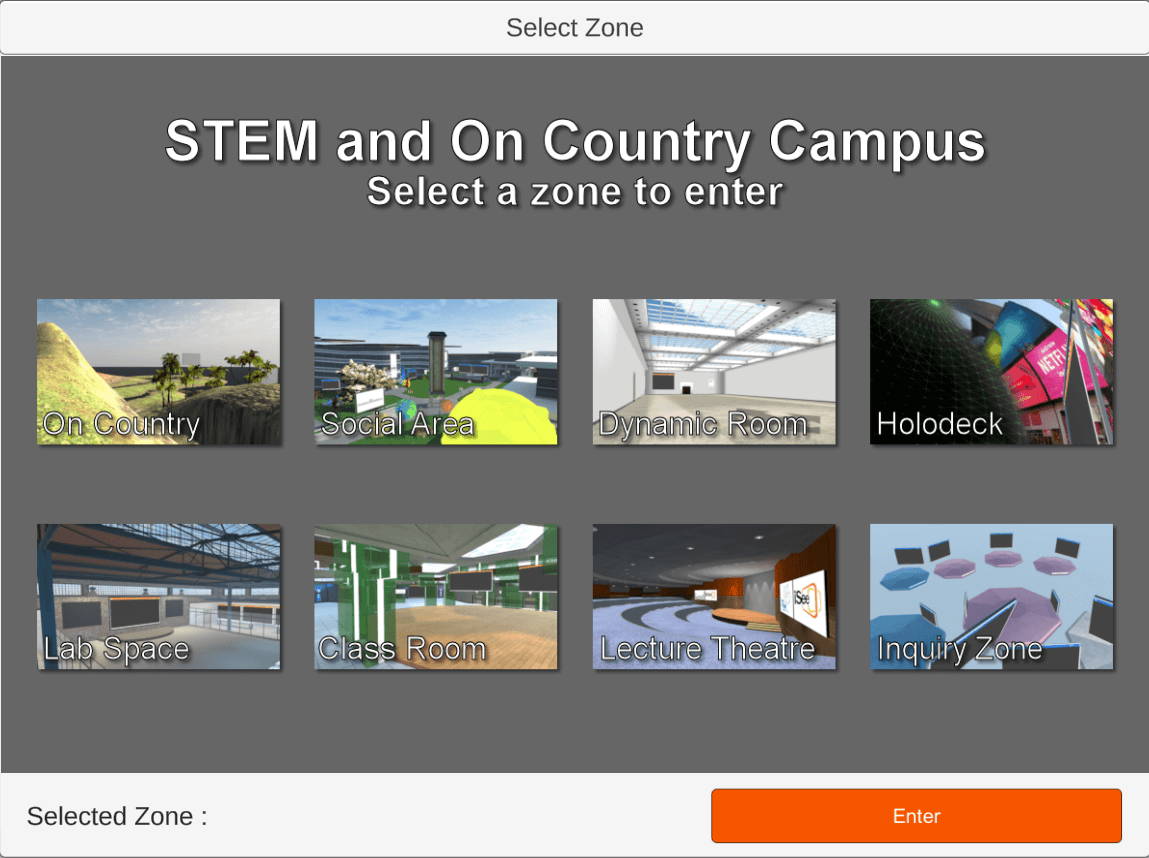 The STEM and On Country Campus is a combination of the Student Campus and STEM Campus with the addition of the On Country zone to empower indigenous students. Users of the On Country zone need to consider these protocols developed by the department before use.
The Learning Country map has been developed specifically to empower indigenous students, staff and community. It enables indigenous stories and learning on virtual indigenous land as well as the ability to visit country via the two holodecks. As this is indigenous country please ensure that permission has been received from traditional owners before visiting country using the holodecks and ensure that these protocols developed by the department in consultation with community are followed when using the space.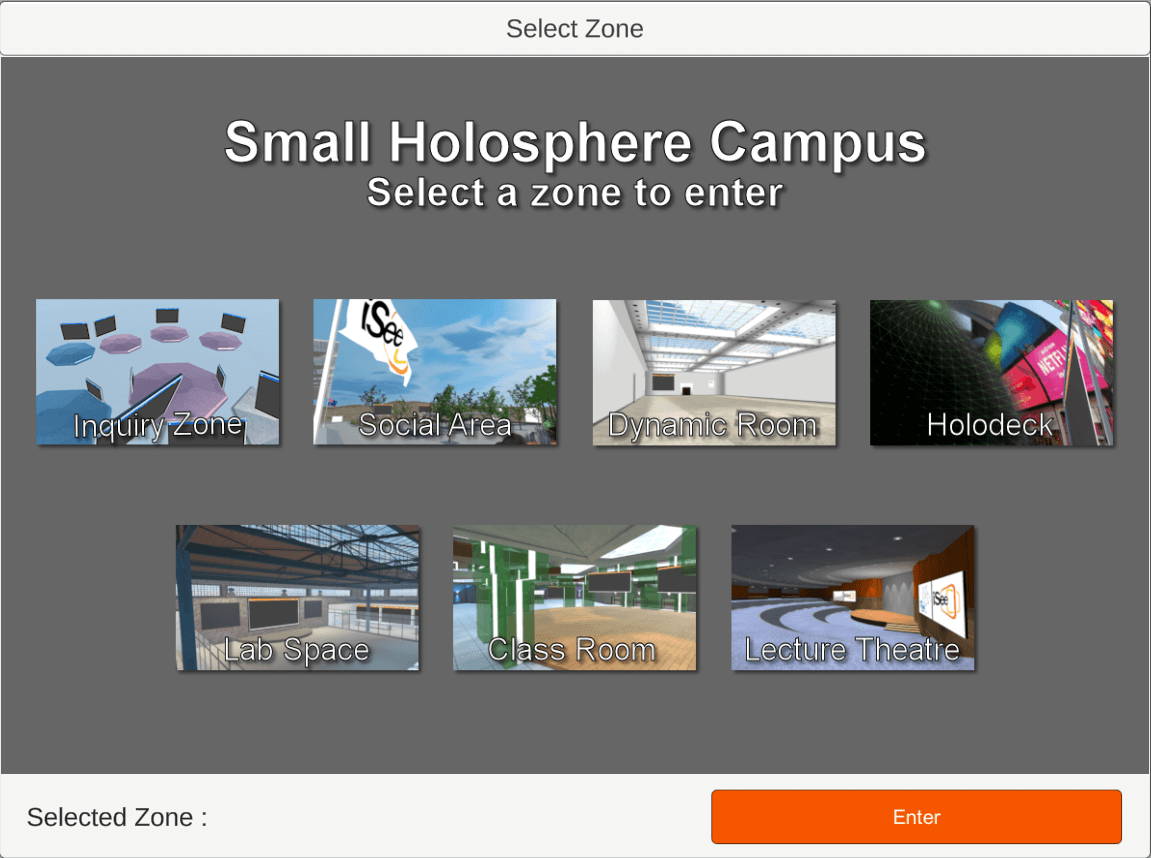 This map is a merged version of the STEM and Student Campuses but with a smaller holodeck that is suited to 360 images taken indoors or in tight areas.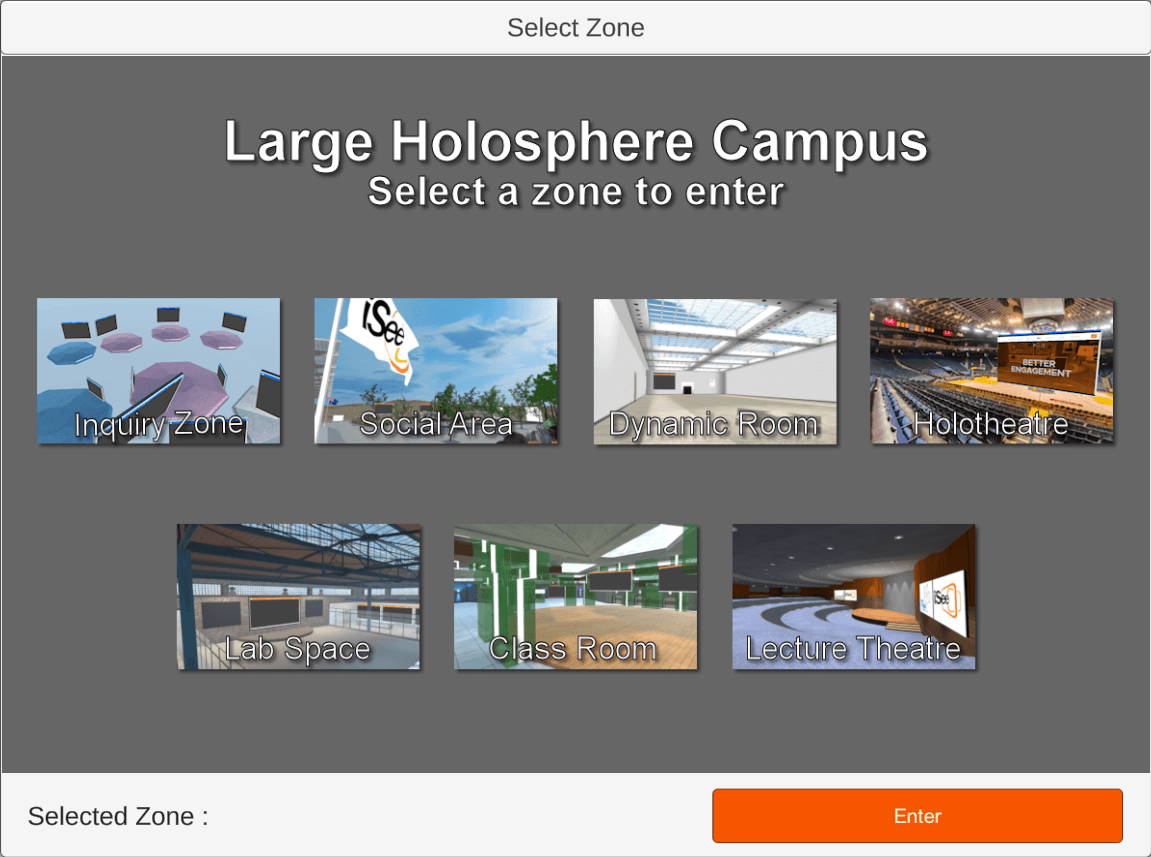 This map is a merged version of the STEM and Student Campuses but with a larger holodeck that is suited to 360 images taken in wide open spaces outdoors or large areas.