iSee Virtual Environments
iSee comes with a range of 3D virtual environment maps to select from when creating a session. Additional maps are added over time and it is also possible to work with iSee to develop new maps to meet your specific goals.
iSee is not a continuous 3D world but is composed of an array of sessions, each with an assigned map of 3D zones. When a new session is created it's selected map is cloned from one of the master maps so that the same map can be used across an unlimited number of sessions without any overlap in content or users. One organsiation can therefore have a separate session and map for each class, teacher or event in an infinitely expandable campus.
Some organisations restrict the number of maps avilabile to their users. If the desired map is not avilable contact your organisation administrator.
Maps can be composed of a single virtual environment (zone), or combine a number of zones in a campus designed to support a range of activities within the same map. In mulit-zone maps all of the zones are active at once and session attendees can be in different zones within the map at the same time.
Zones are deliberately desiged to support specific kinds of social and learning activities and are also designed around different class or event sizes. When choosing a map things to consider are:
how many people will be in the spaces at once
what kind of social, pedagogical and content interactions do you want to support
what kind of atmosphere would you like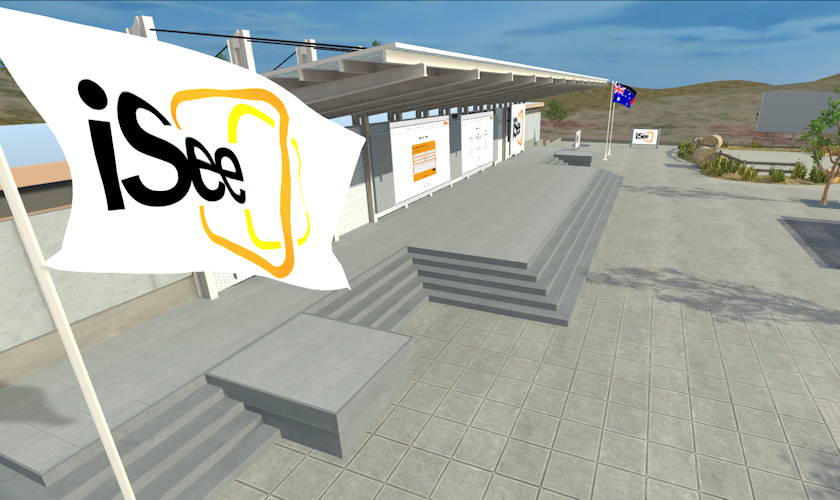 Size: <50 people
Supports:
Social engagement, play and group workshop activities
Atmosphere:
Relaxed and friendly with some formal structure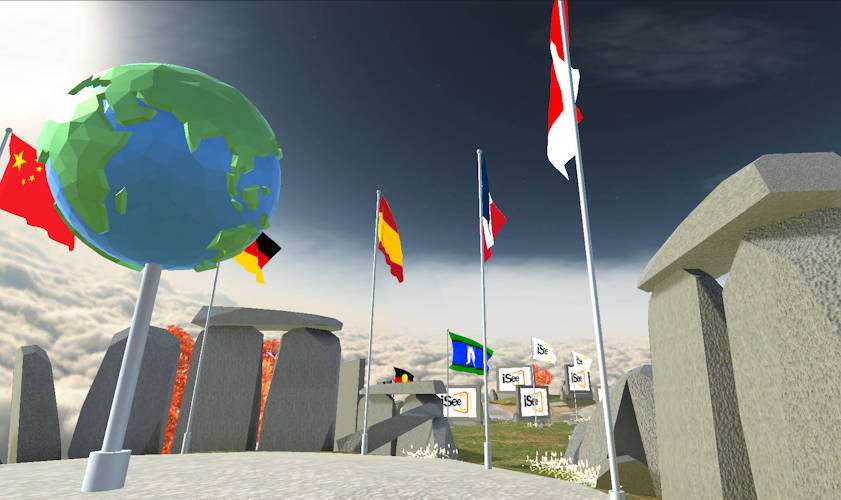 Size: <30 people
Supports:
Languages learning with spaces to quickly break up a class into pairs to enable greater student engagement
Atmosphere:
Relaxed and friendly with some formal structure
---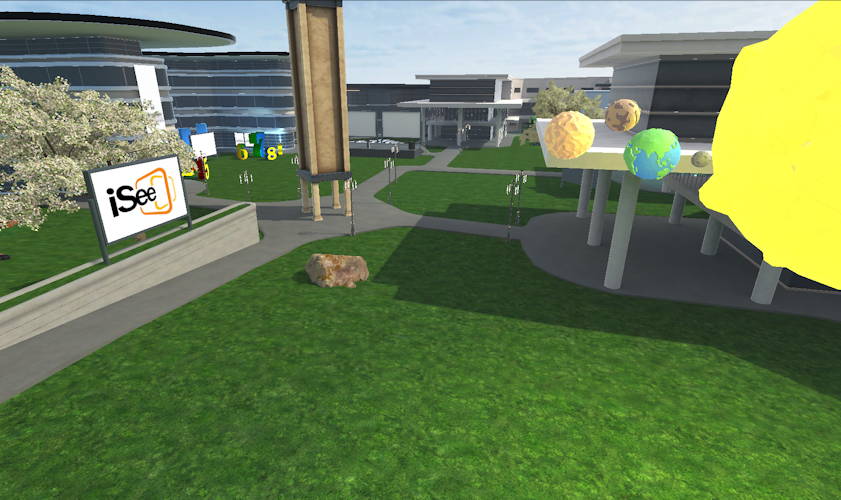 Size: <80 people
Supports:
Social, explorative play, inquiry and group learning activities with a STEM theme
Atmosphere:
Engaging and playful with designed presentation and group work areas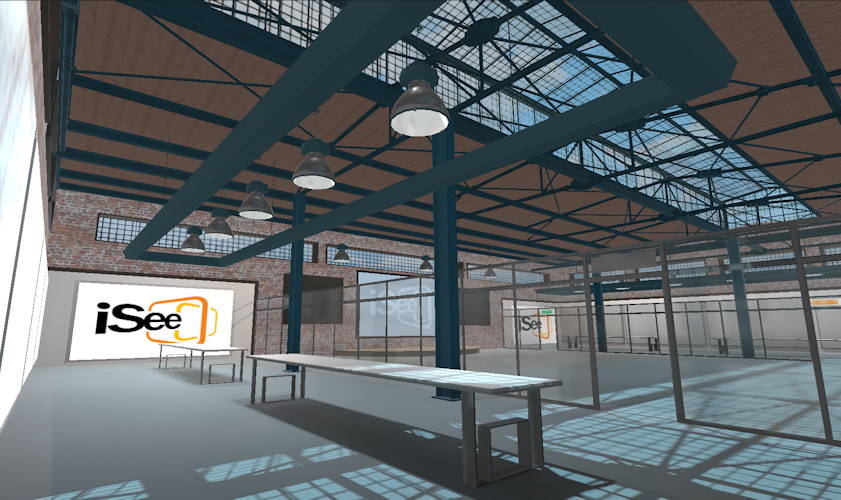 Size: <30 people
Supports:
Centralised presentation space with some group or individual work and a STEM theme
Atmosphere:
Structured with an industrial STEM feel
---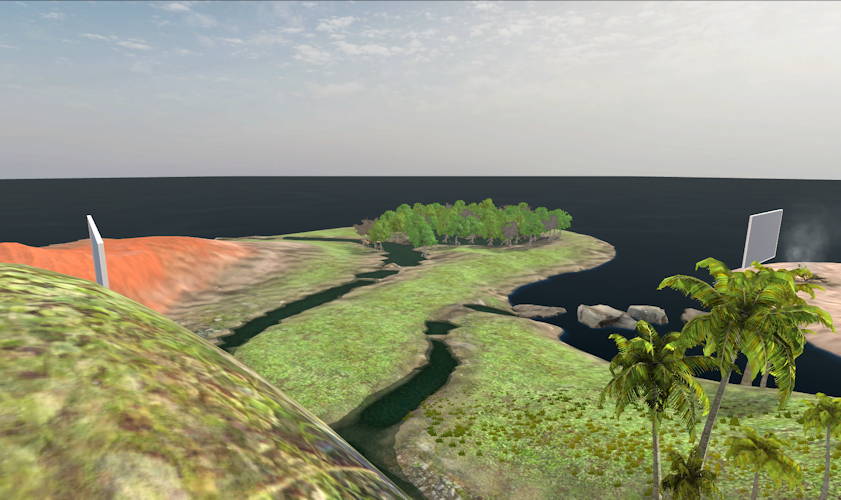 Size: <100 people
Supports:
Cultural capability, student centred indigenous engagement and learning pedagogies
Atmosphere:
Developed with the Aboriginal and Torres Straight Islander community to provide a culturally reflective and respectful learning area - see
here
for protocols and considerations on the respectful use of the space
Size: <50 people
Supports:
A range of activities, hierachical thinking and group work associated with inquiry-based learning
Atmosphere:
Structured with a blue sky thinking theme
---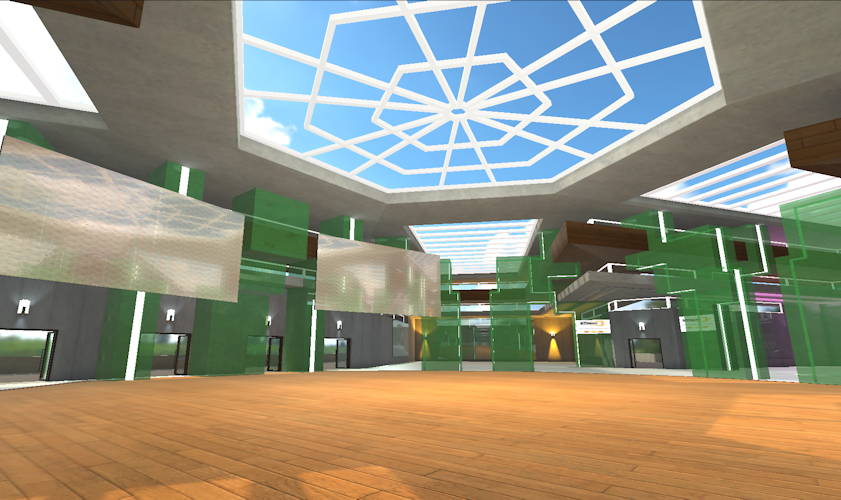 Size: <30 people
Supports:
Structured group work areas within a class
Atmosphere:
Structured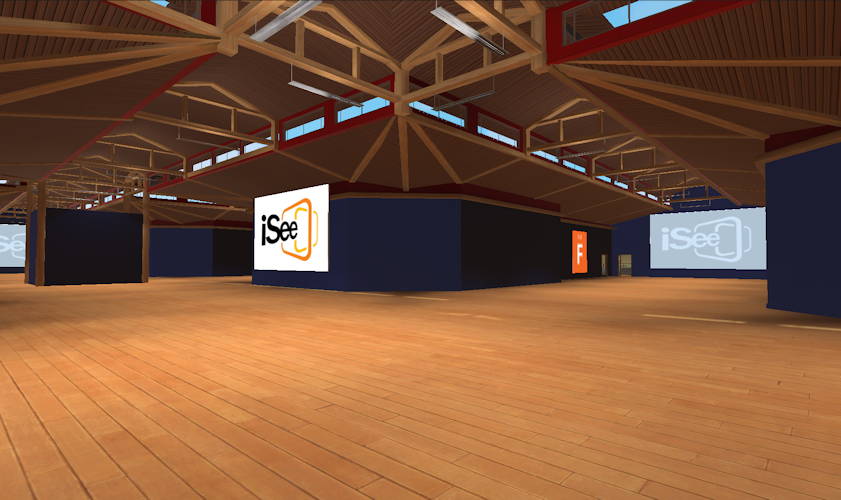 Size: <50 people
Supports:
Long term group work and group showcase events
Atmosphere:
Structured with a relaxed feel and lots of signage for atmosphere creation
---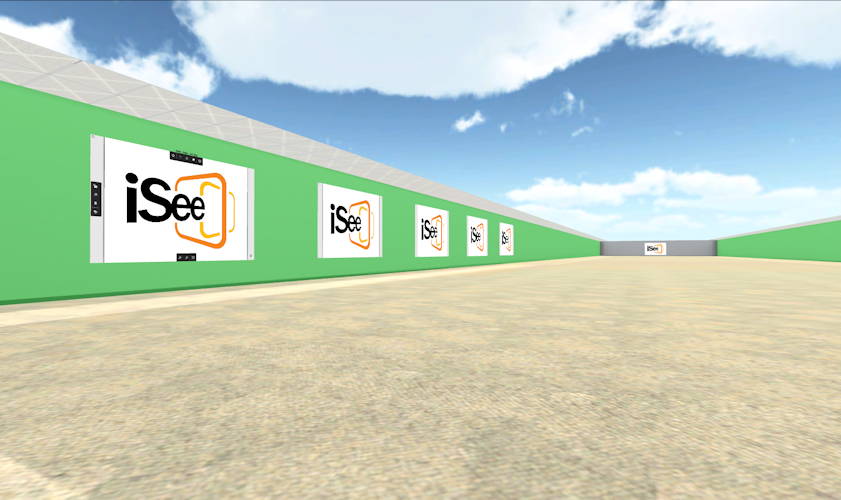 Size: <100 people
Supports:
Medium scale poster, gallery, showcase and networking events
Atmosphere:
Formal but relaxed space that encourages interaction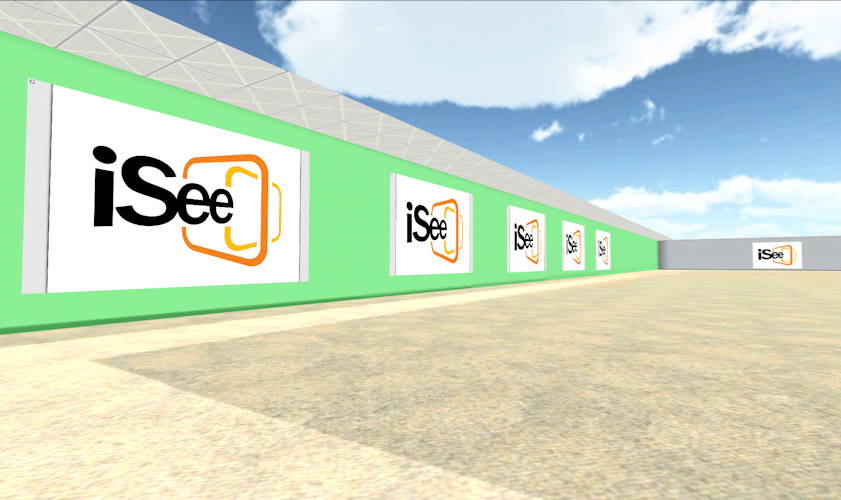 Size: <50 people
Supports:
Small scale poster, gallery, showcase and networking events
Atmosphere:
Formal but relaxed space that encourages interaction
---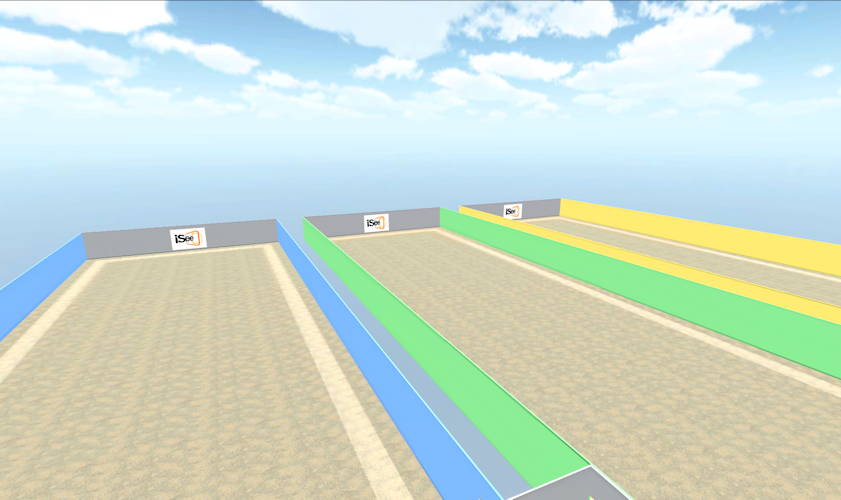 Size: <150 people
Supports:
Large scale poster, gallery, showcase and networking events
Atmosphere:
Formal but relaxed space that encourages interaction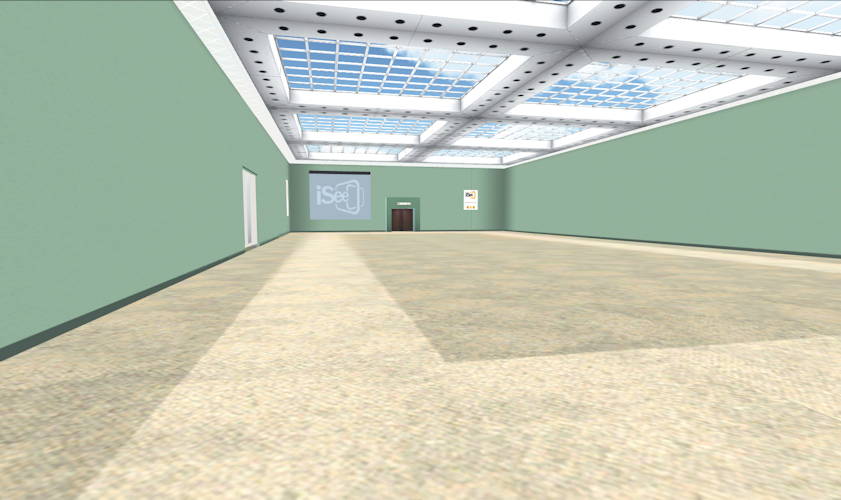 Size: <50 people
Supports:
Dynamically resizable room to support poster, gallery, showcase and networking events
Atmosphere:
Formal but relaxed space that encourages interaction
---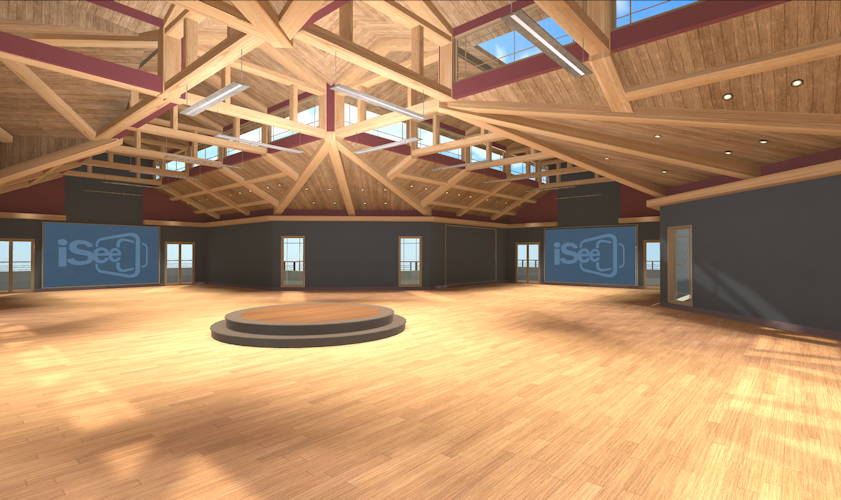 Size: <20 people
Supports:
Smaller scale tutorials and workshops centred on group work
Atmosphere:
Structured space with easy group interaction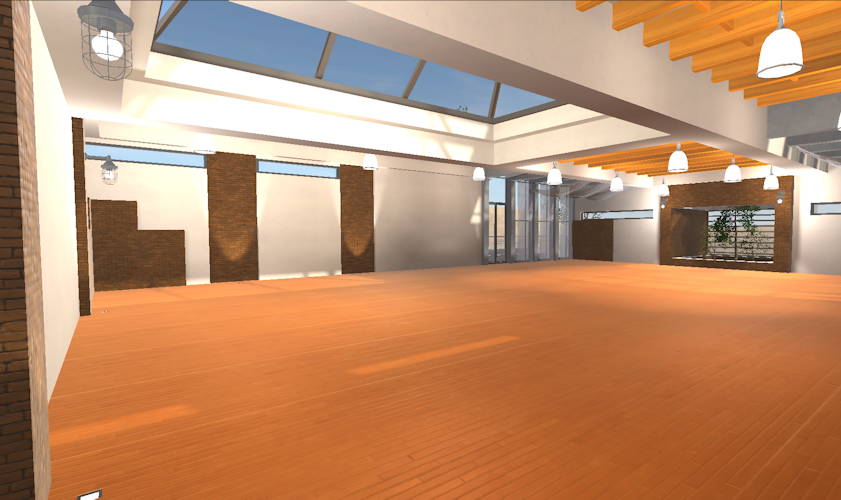 Size: <15 people
Supports:
Small meetings
Atmosphere:
Formal but relaxed space
---
SmallHolosphere (Holodeck)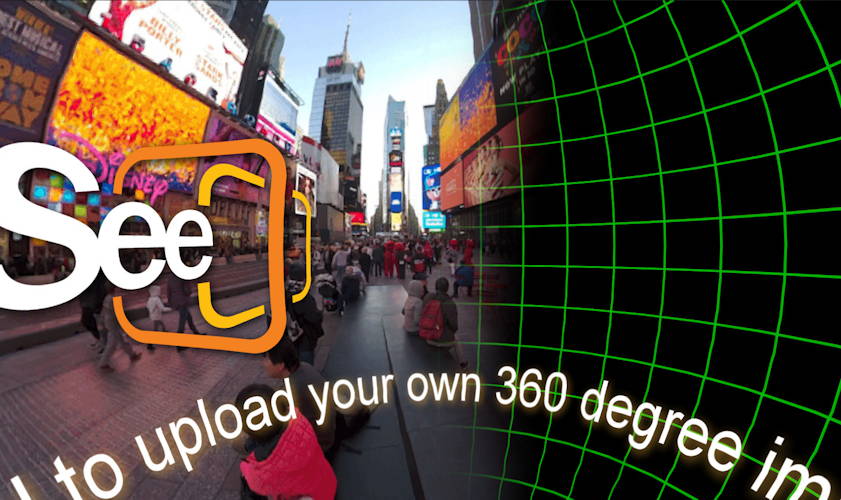 Size: <20 people
Supports:
Virtual tours or meetings/workshops within a themed location
Atmosphere:
Meet within a SessionHost loaded 360 image
Large Holosphere (Holotheatre)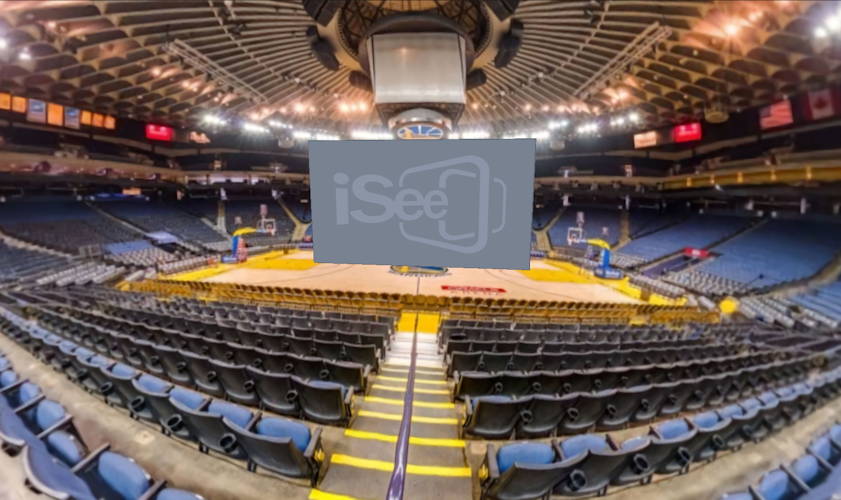 Size: <50 people
Supports:
Virtual tours, planetarium, themed presentations
Atmosphere:
Meet within a large scale SessionHost loaded 360 image where focus is in a single direction
---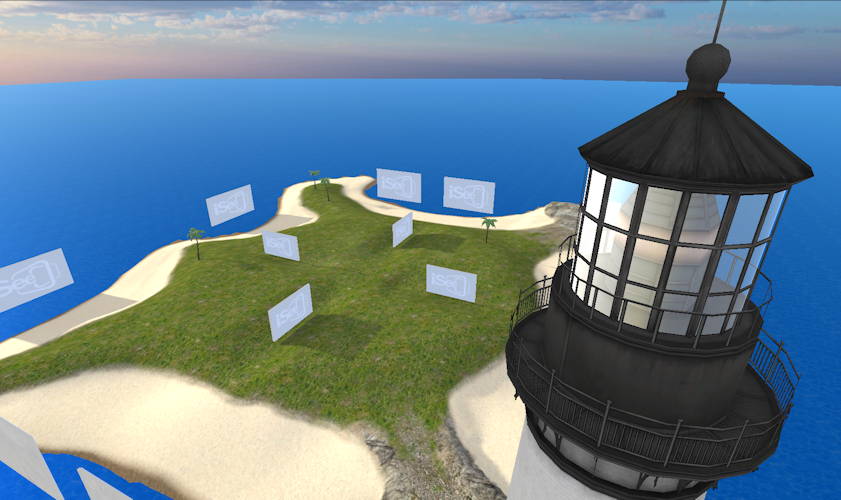 Size: <50 people
Supports:
Social and conference networking events, workshops, group work
Atmosphere:
Informal with a built in easter egg secret path to the top of the lighthouse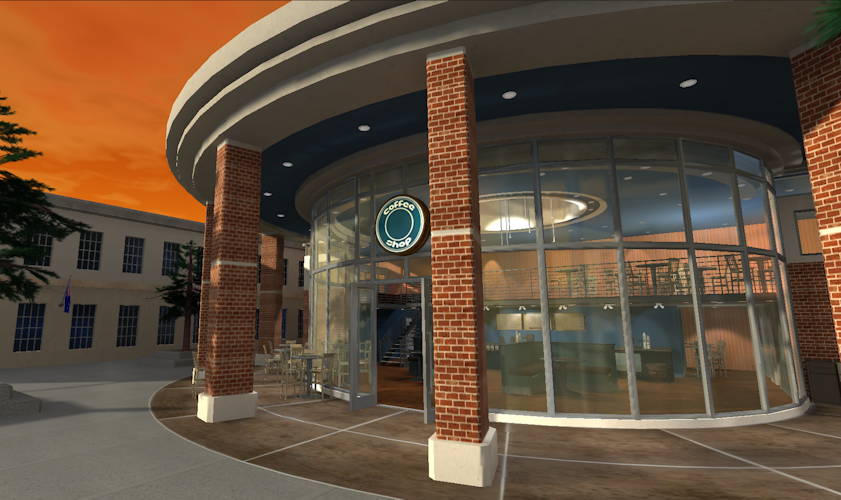 Size: <20 people
Supports:
Small social and networking activities
Atmosphere:
Informal relaxing coffee shop (sorry, BYO coffee)
---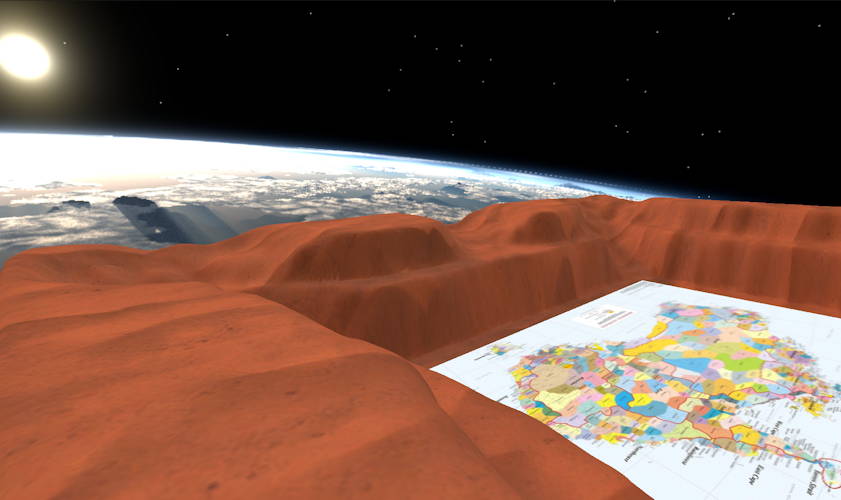 Size: <30 people
Supports:
Group visualisation of a learning journey
Atmosphere:
Wonder with a SessionHost uploaded map image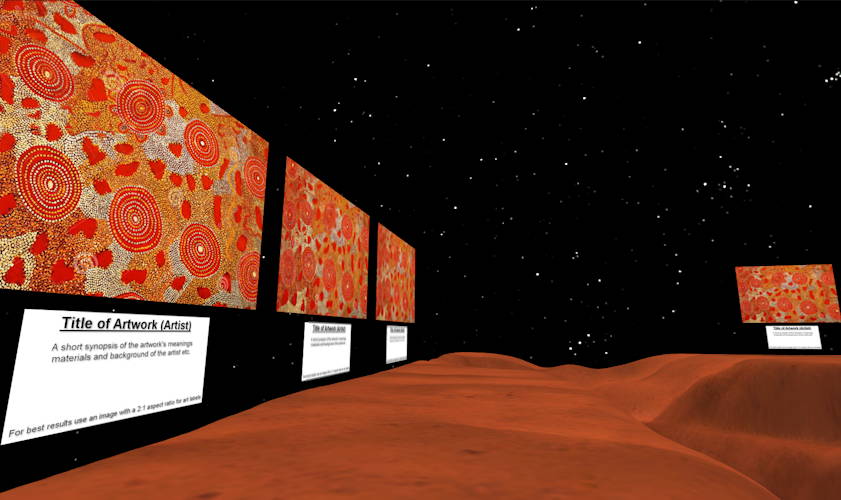 Size: <30 people
Supports:
Art gallery and discussion space
Atmosphere:
Wonder with a SessionHost uploaded images
---
Size: <10 people
Supports:
Formal meeting, interview and negotiation training
Atmosphere:
Structured and formal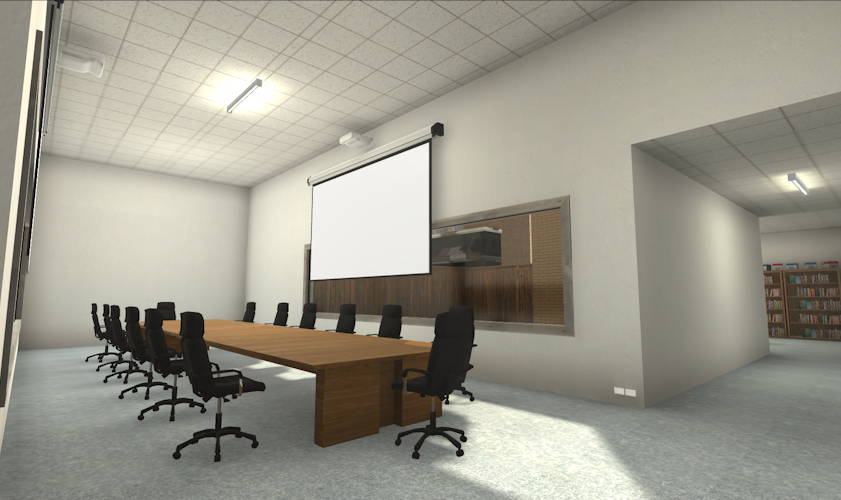 Size: <10 people
Supports:
Formal meeting, interview and negotiation training
Atmosphere:
---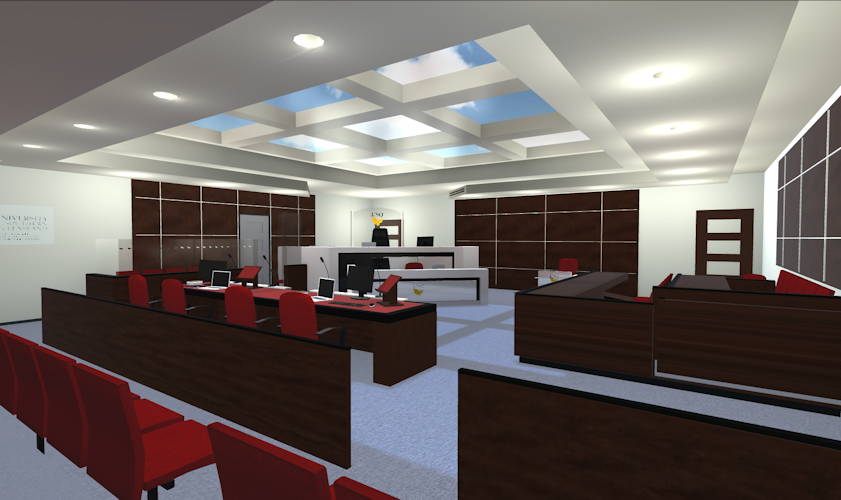 Size: <20 people
Supports:
Moot court training and debating
Atmosphere:
Structured and formal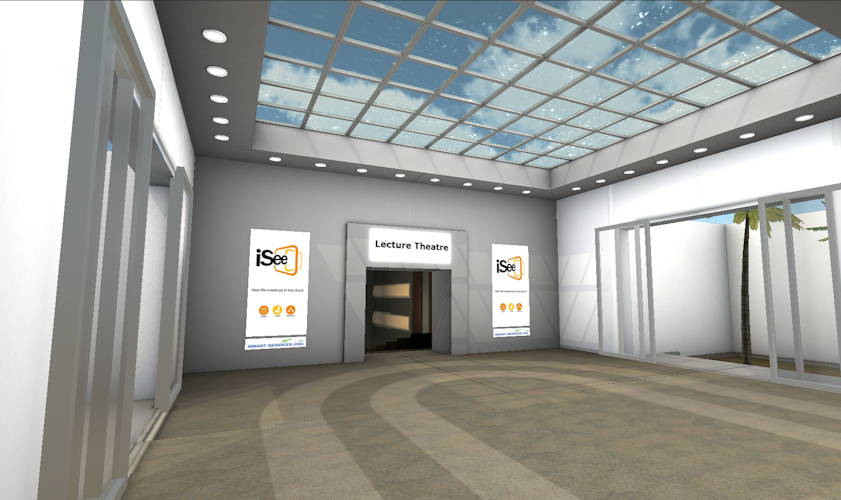 Size: <20 people
Supports:
Small lectures and tutorials
Atmosphere:
Structured and formal
---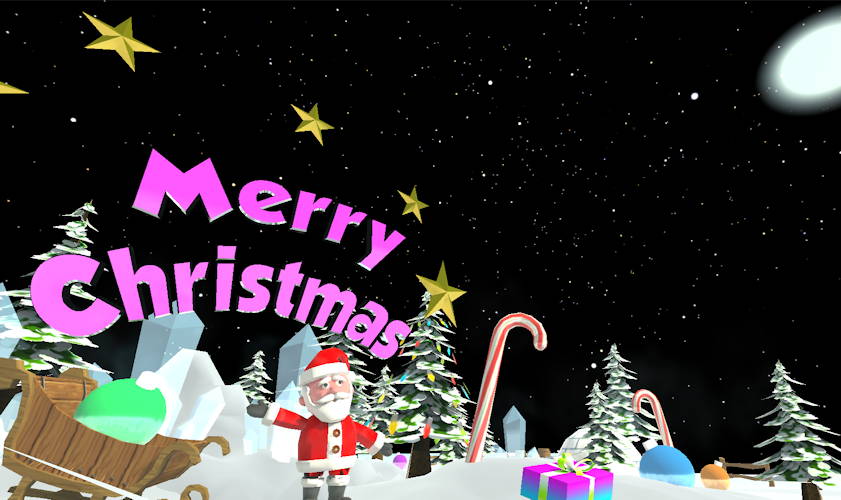 Size: <30 people
Supports:
Seasons social activities
Atmosphere:
Fun and relaxing Christmas playground
---
Teaching and Learning Multi-Zone Maps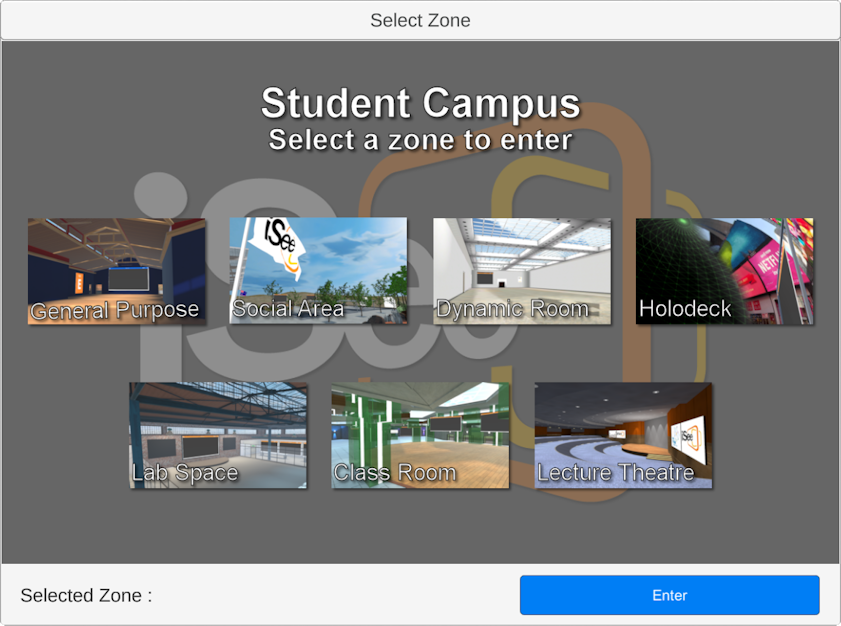 General purpose teaching and learning campus with:
General Purpose Zone
Outdoor Space
Dynamic Room
Holodeck
Lab Space
Classroom
Lecture Theatre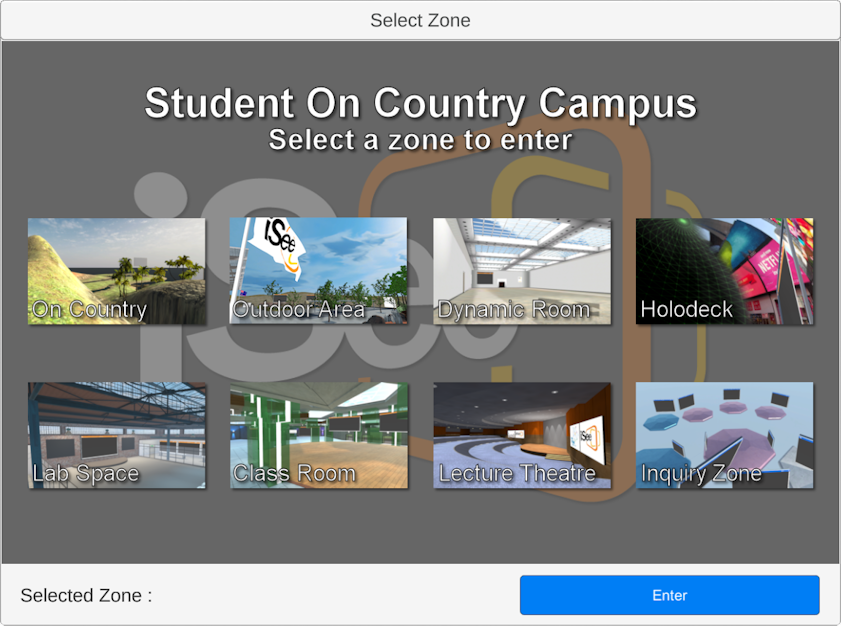 Extended general purpose teaching and learning campus with:
On Counrty
Outdoor Space
Dynamic Room
Holodeck
Lab Space
Classroom
Lecture Theatre
Inquiry Zone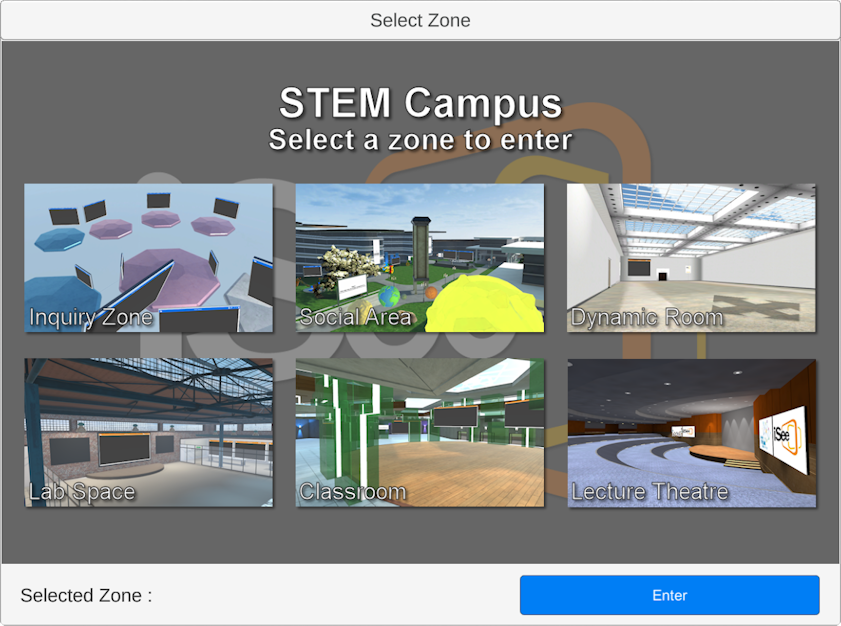 STEM focussed teaching and learning campus with:
Inquiry Zone
STEM Social Area
Dynamic Room
Lab Space
Classroom
Lecture Theatre
---
Extended STEM focussed teaching and learning campus with:
On Country
STEM Social Area
Dynamic Room
Holodeck
Lab Space
Classroom
Lecture Theatre
Inquiry Zone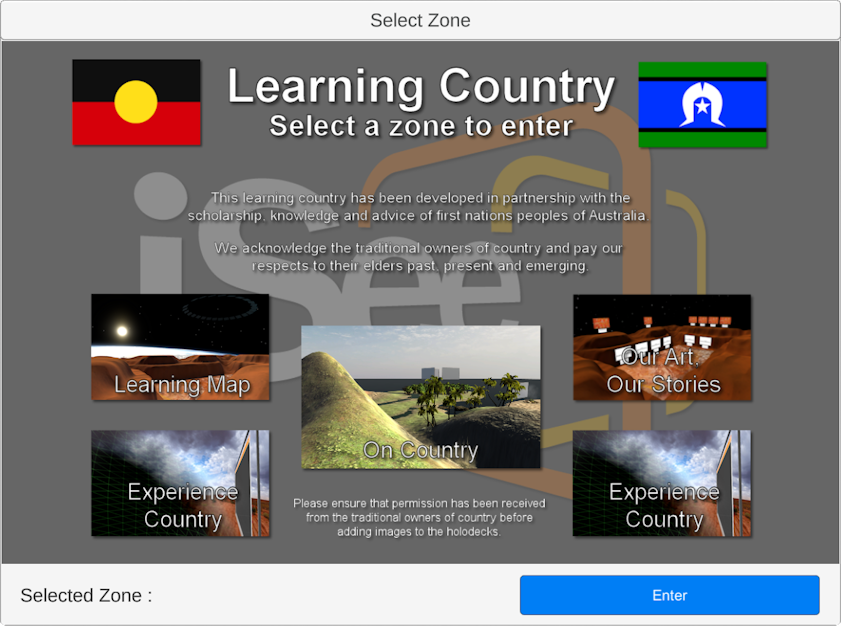 Cultural capability focussed teaching and learning campus to support indigenous engagement and pedagogies with:
On Country
Learning Map
Our Art Our Stories Gallery
Experience Country Holodecks
Note the protocols and considerations for the use of this space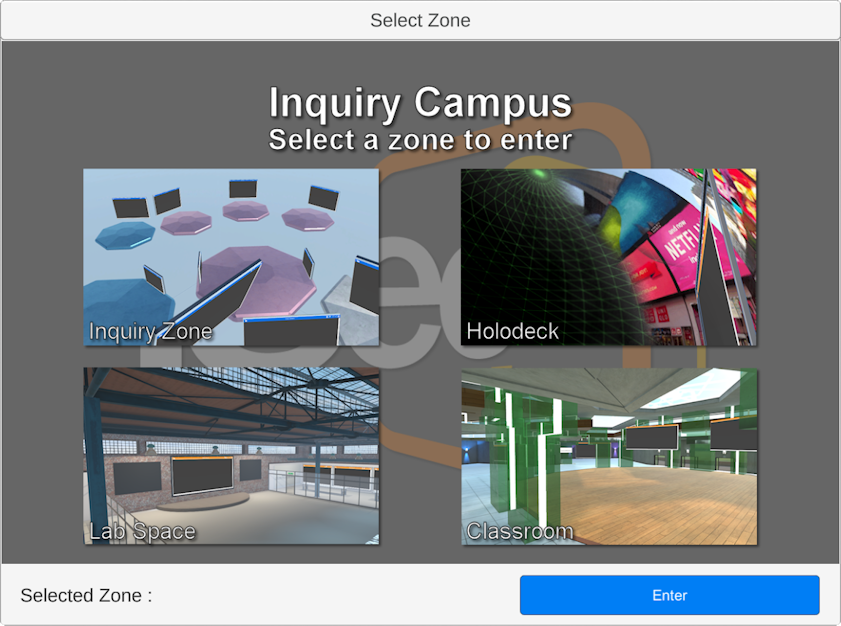 Simplified campus to support general inquiry-based learning:
Inquiry Zone
Holodeck
Lab Space
Classroom
---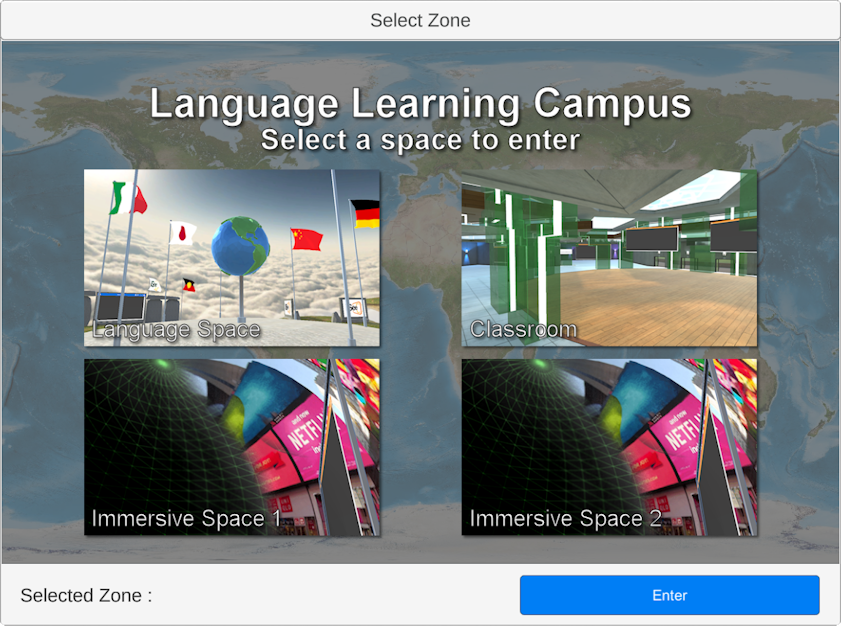 General campus for Language and Culture studies:
Langauge Space
Classroom
Cultural Immersion spaces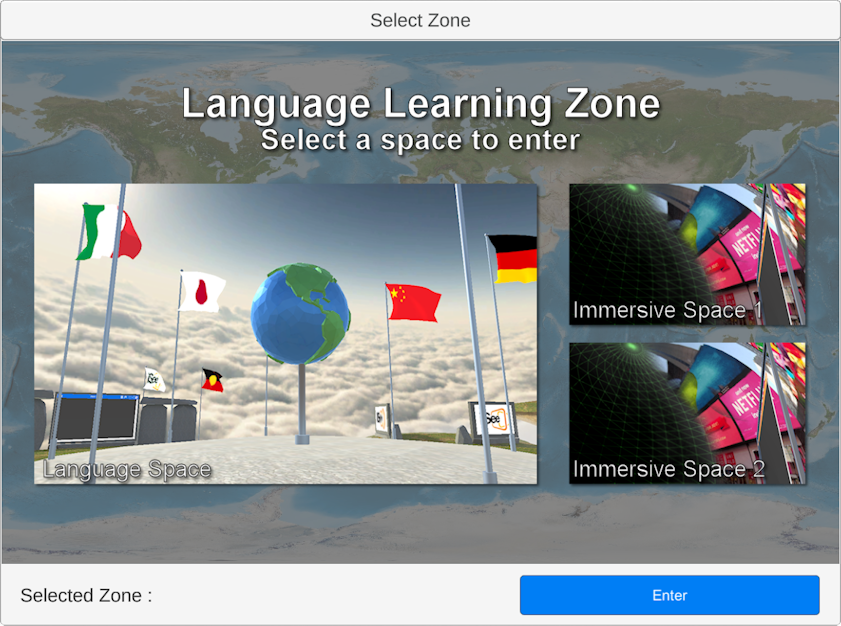 Simplified campus for Language and Culture studies:
Langauge Space
Cultural Immersion spaces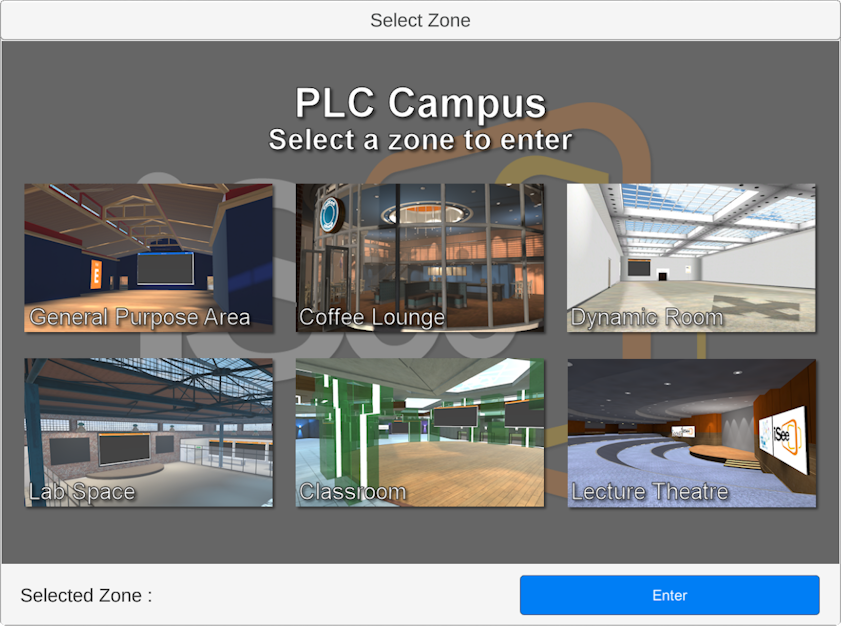 Plain campus with traditional style teaching and learning spaces:
General Purpose Zone
Coffee Lounge
Dynamic Room
Lab Space
Classroom
Lecture Theatre
---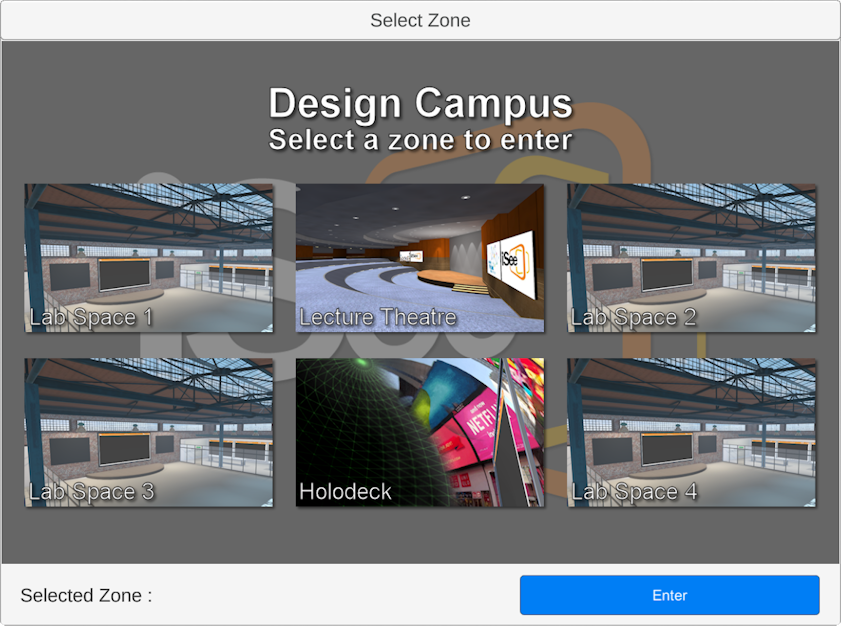 Design lab campus with co-creation and showcase spaces:
Lecture Theatre
Holodeck
Lab Space x 4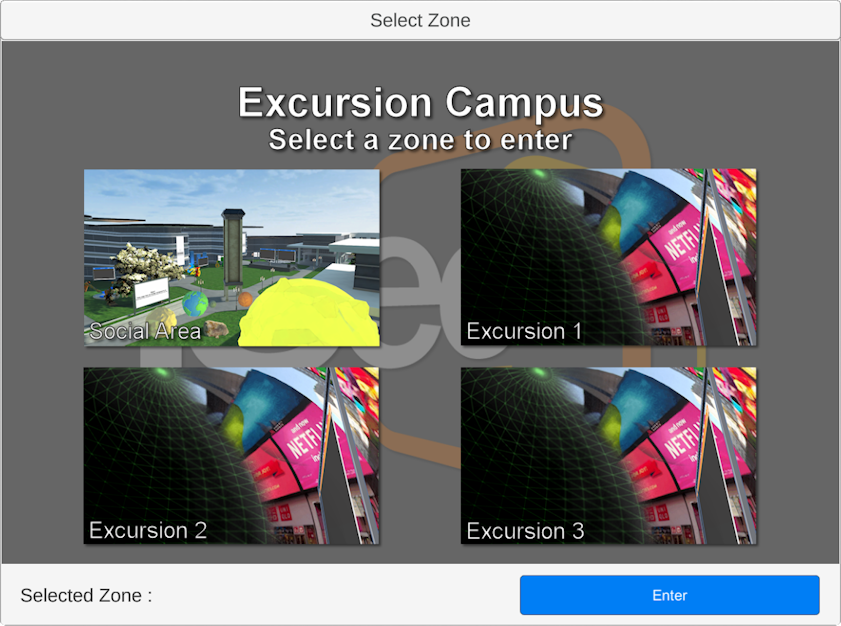 Purpose made campus for virtual excursions with a meeting place and multiple holodecks that can be prepared ahead of time: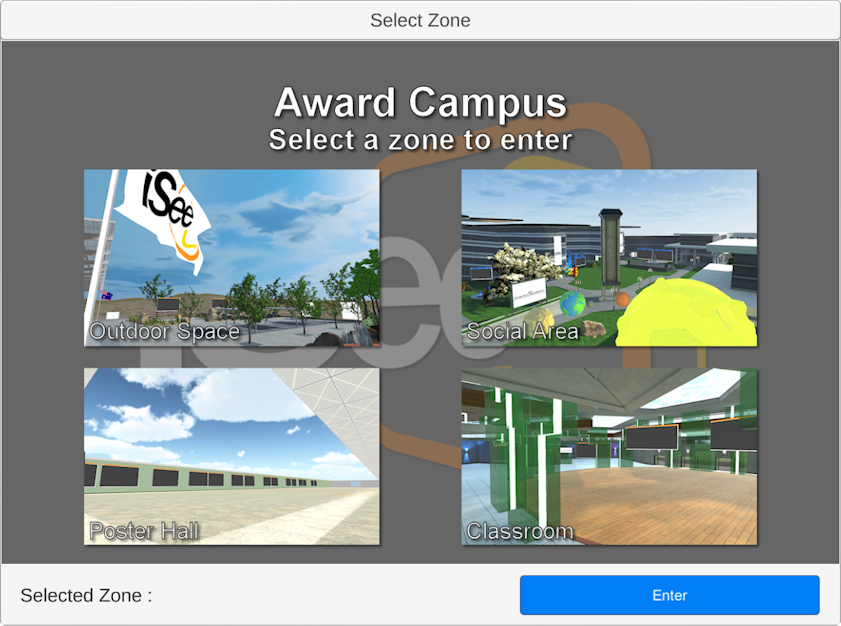 Campus with a variety of showcase/award spaces:
Outdoor Space
STEM Area
Poster Hall
Classroom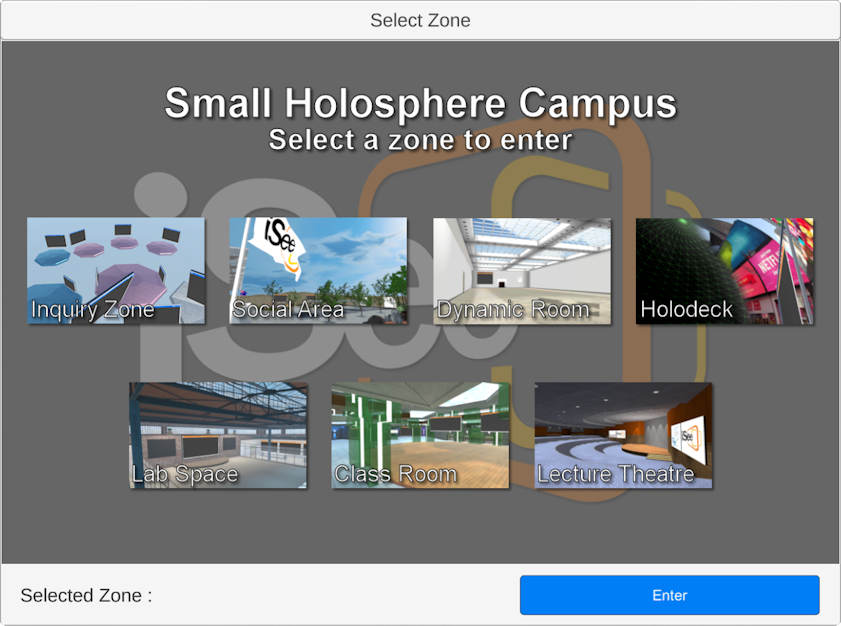 Diverse teaching and learning campus that includes a holodeck:
Inquiry Zone
Outdoor Space
Dynamic Room
Holodeck
Lab Space
Classroom
Lecture Theatre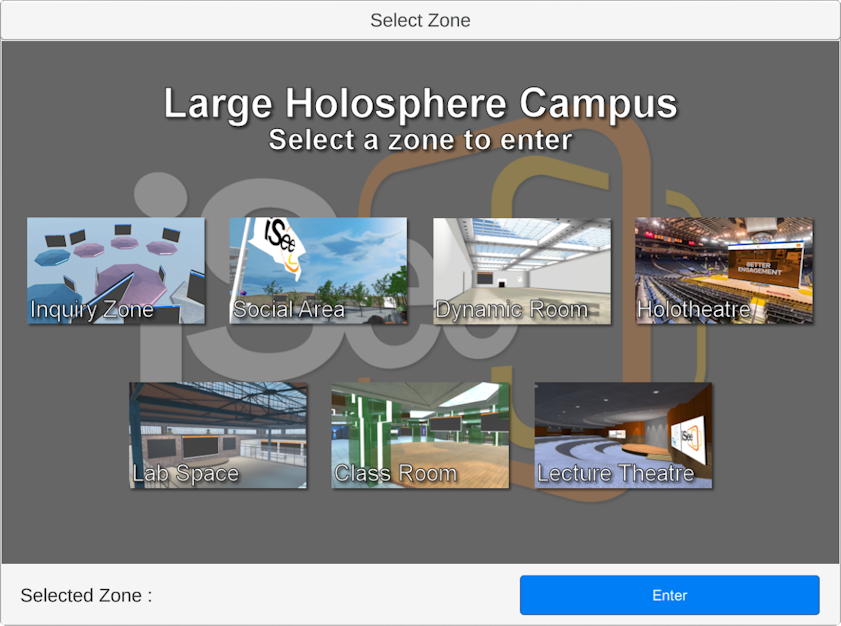 Diverse teaching and learning campus that includes a large holodeck theatre:
Inquiry Zone
Outdoor Space
Dynamic Room
Holotheatre
Lab Space
Classroom
Lecture Theatre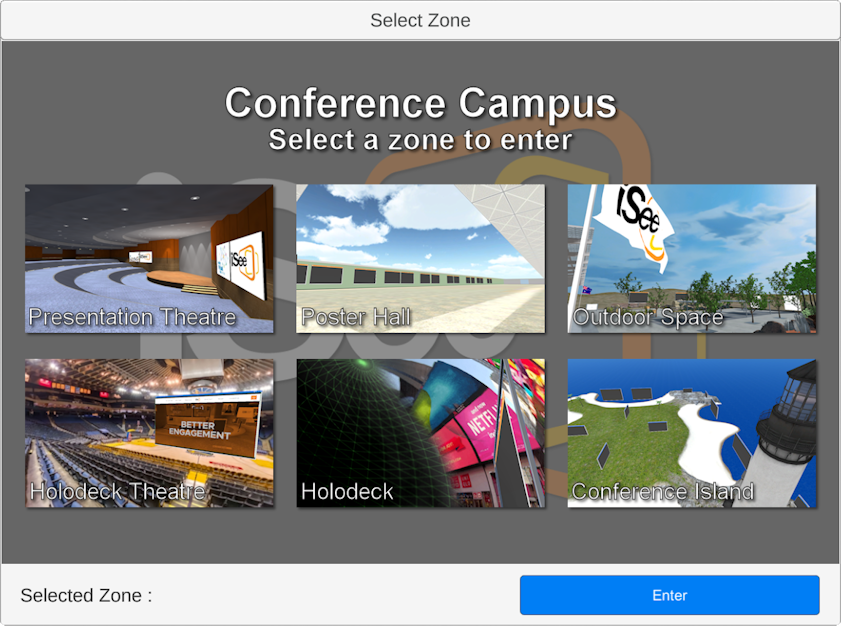 Campus for supporting interactive conferences and events such as oral presentations, poster sessions, trade show and networking events:
Presentation Theatre
Poster Hall
Outdoor Space
Holodeck Theatre
Holodeck
Conference Island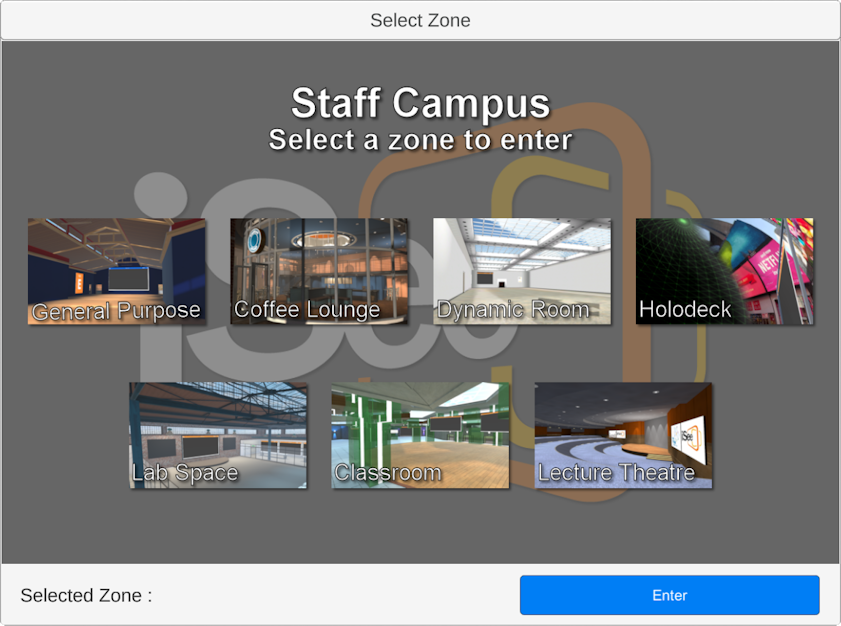 Staff training campus:
General Purpose Space
Coffee Lounge
Dynamic Room
Holodeck
Lab Space
Classroom
Lecture Theatre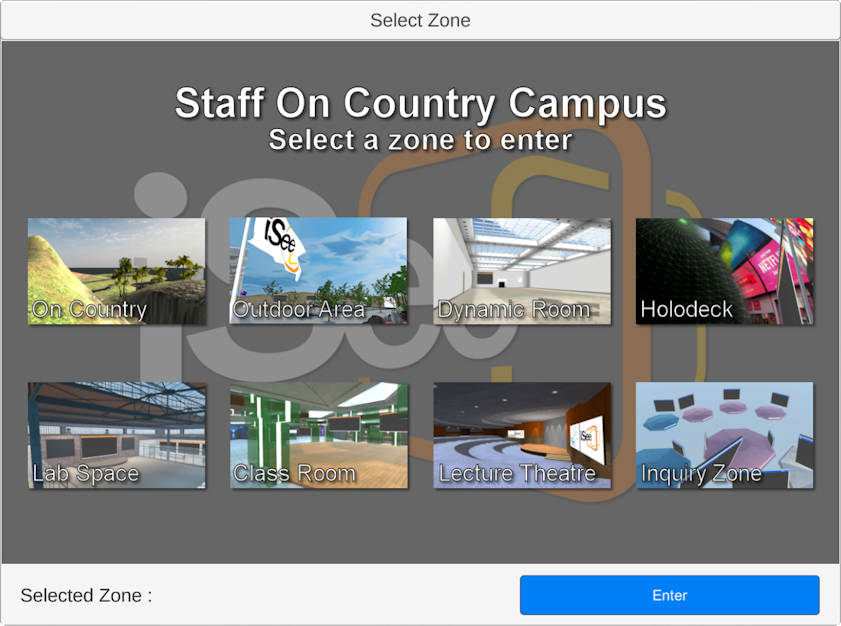 Expanded staff training campus for indigenous and inquiry-based pedagogies:
On Country
Outdoor Space
Dynamic Room
Holodeck
Lab Space
Classroom
Lecture Theatre
Inquiry Zone
---
Simple networking and workshop spaces:
Outdoor Space
Tutorial Room
Simple networking and presentation spaces:
Outdoor Space
Lecture Theatre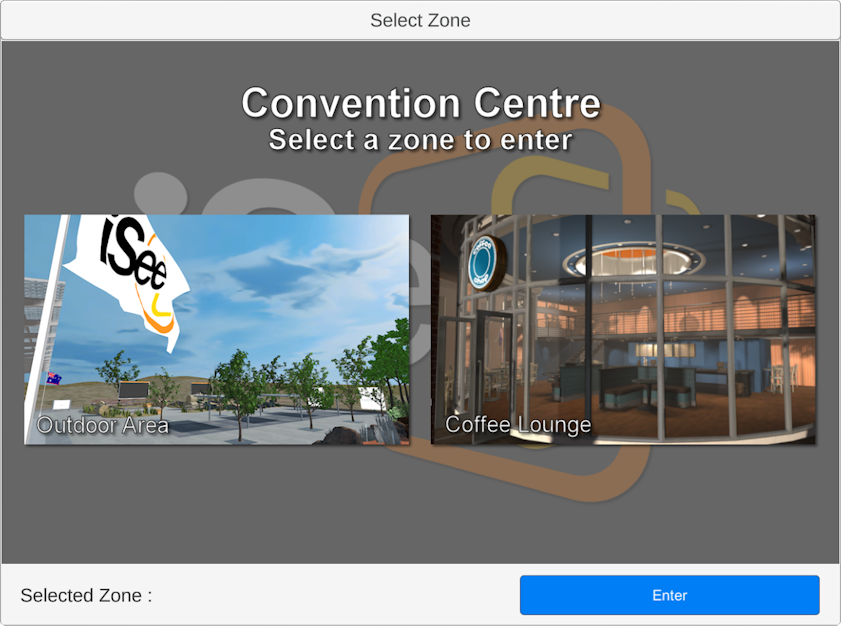 Simple workshop and socialisation spaces:
Outdoor Space
Coffee Lounge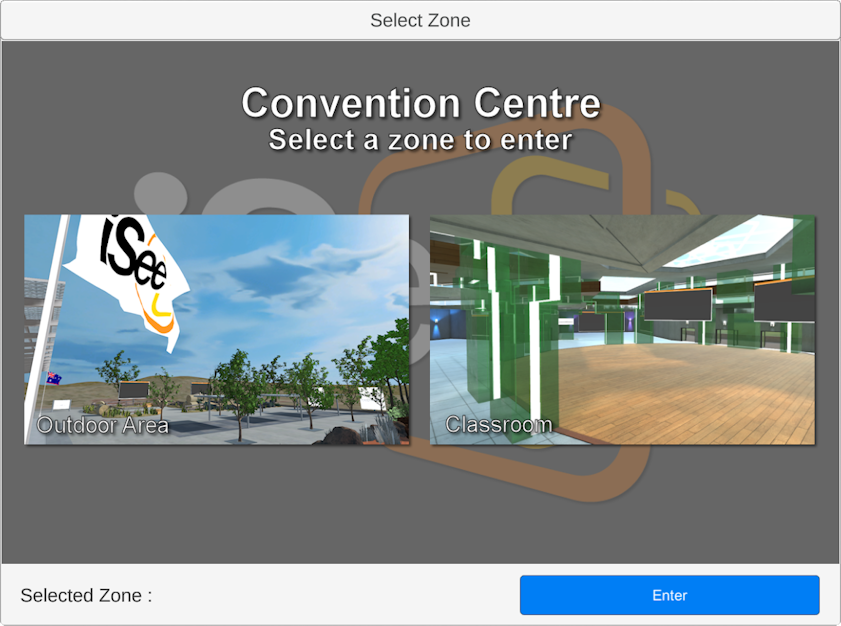 Simple networking and workshop spaces:
---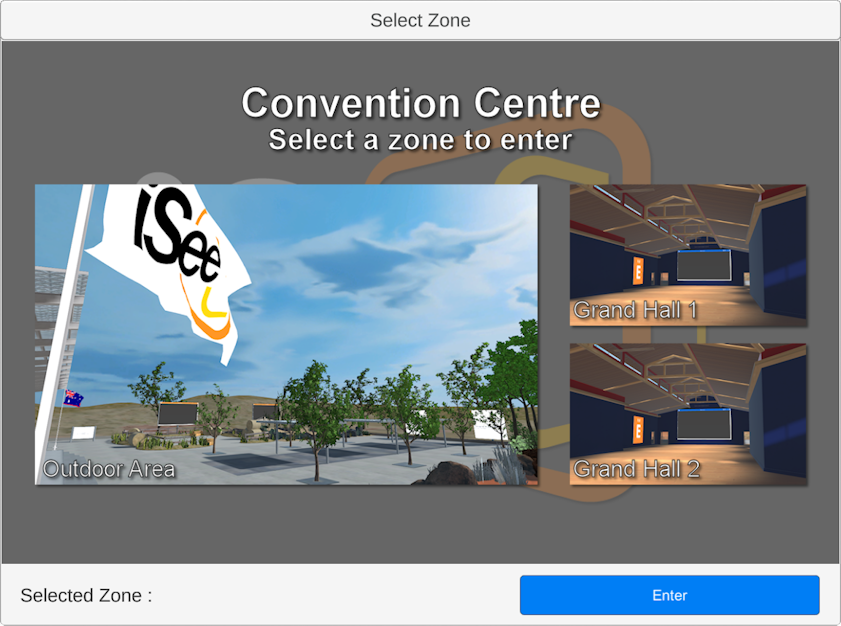 Networking, workshop and showcase spaces:
Outdoor Space
Grand Hall x 2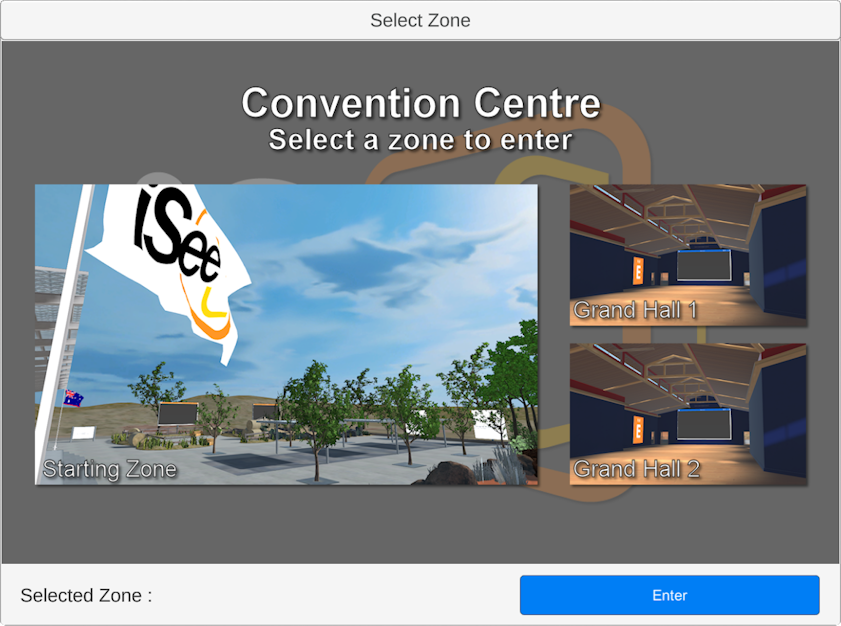 Networking, workshop and showcase spaces with a clear starting space:
Starting Zone
Grand Hall x 2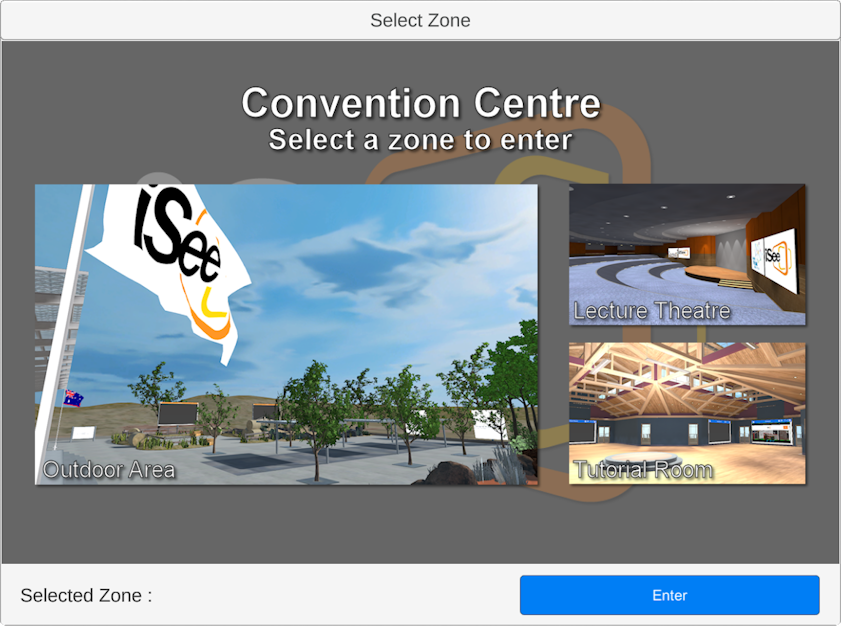 Networking, presentation and workshop spaces:
Outdoor Area
Lecture Theatre
Tutorial Room
---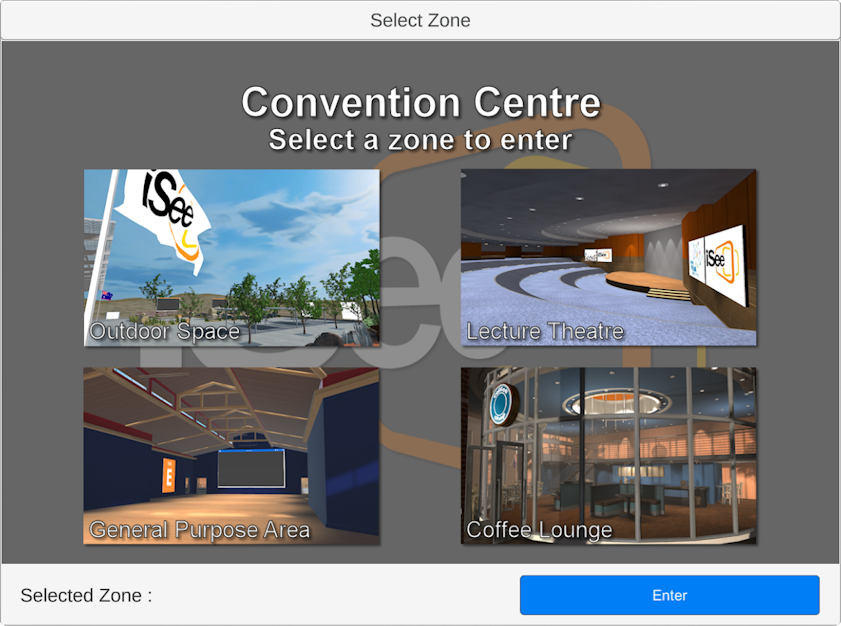 General conference space for oral networking, workshops, trade shows and socialisation:
Outdoor Space
Lecture Theatre
General Purpose Area
Coffee Lounge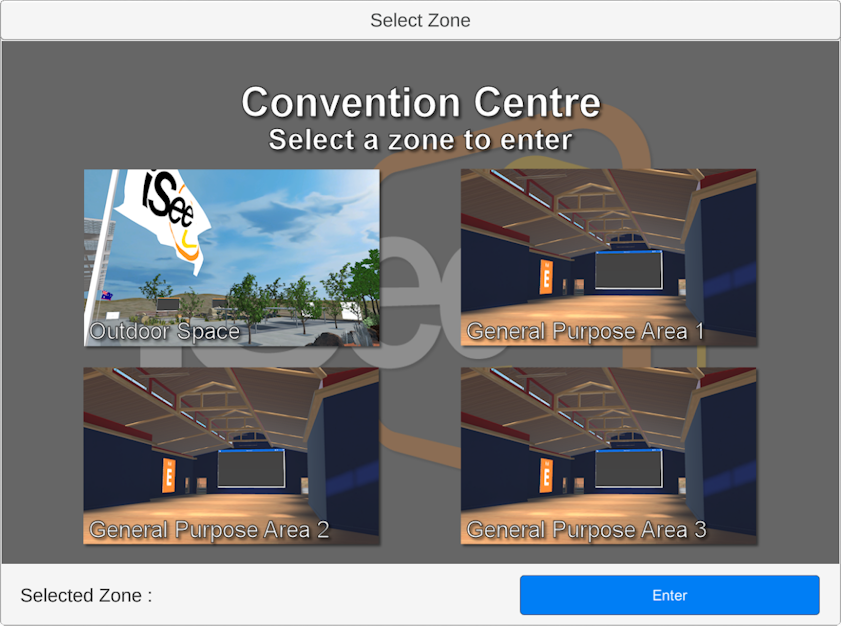 Networking, workshop and trade show/showcase spaces:
Outdoor Space
General Purpose Area x 3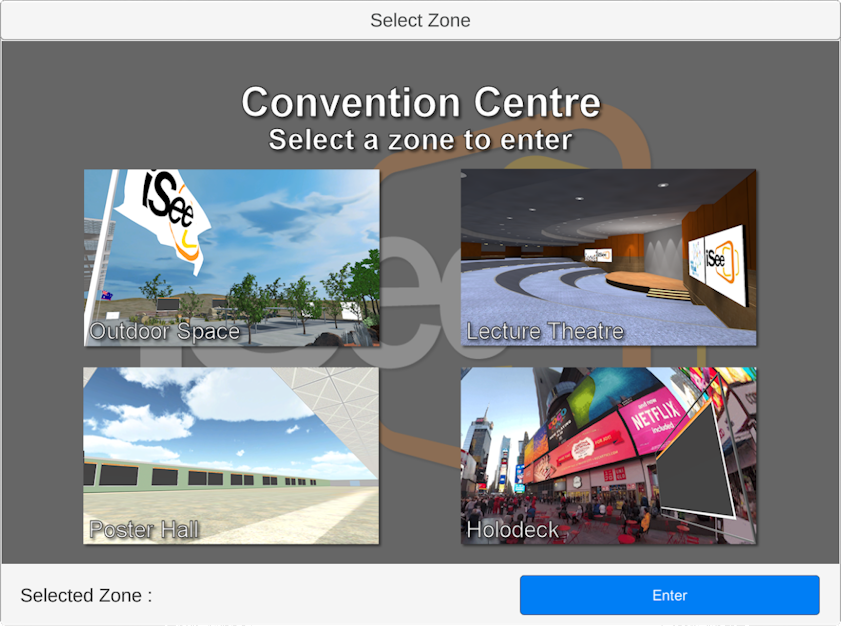 Oral presentation, poster presentation, tradeshow, networking and virtual tour spaces:
Outdoor Space
Lecture Theatre
Poster Hall
Holodeck
---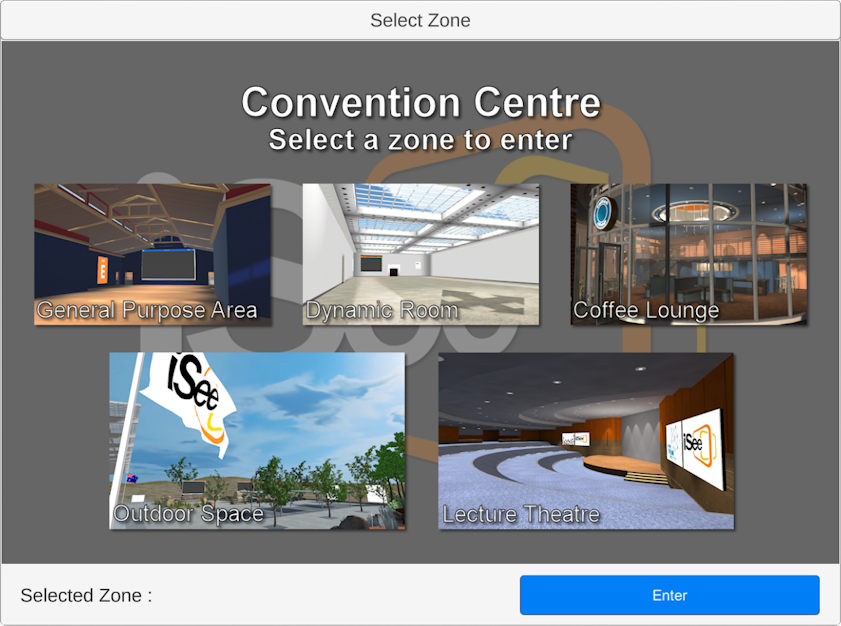 General conference space for oral networking, workshops, trade shows and socialisation:
General Purpose Area
Dynamic Room
Coffee Lounge
Outdoor Space
Lecture Theatre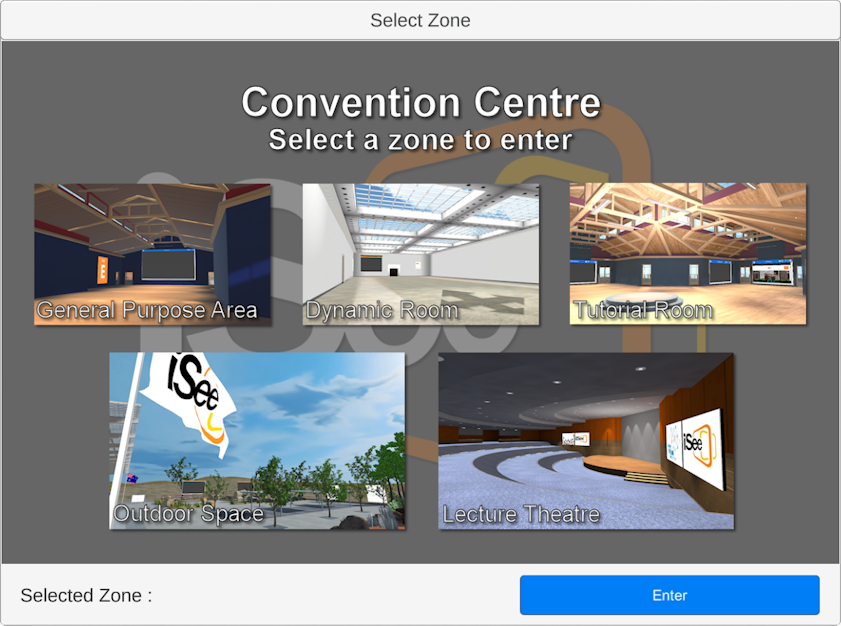 General conference space for oral networking, workshops, trade shows and socialisation:
General Purpose Area
Dynamic Room
Tutorial Room
Outdoor Space
Lecture Theatre
---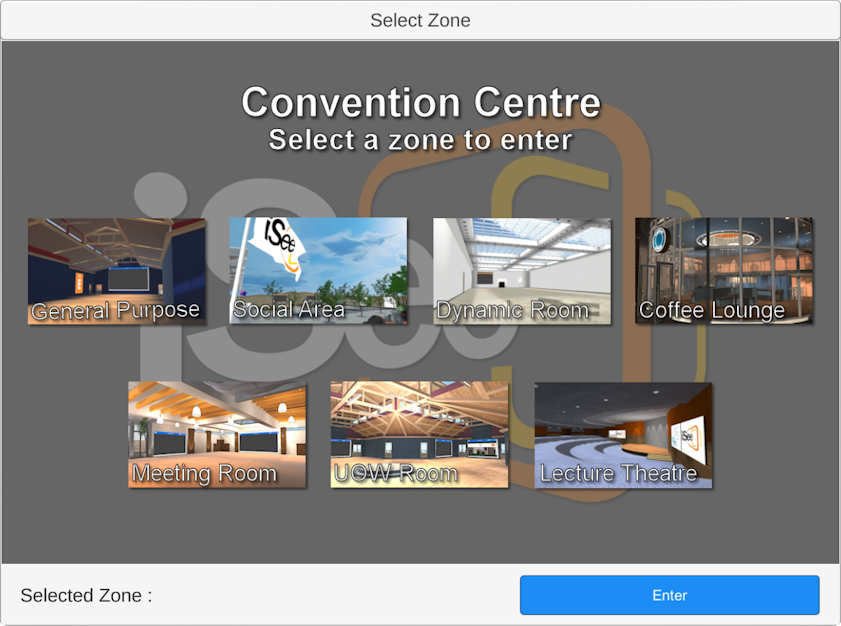 General conference space for oral networking, workshops, trade shows and socialisation:
General Purpose Area
Social Area
Dynamic Room
Coffee Lounge
Meeting Room
UOW Room
Lecture Theatre