iSee Virtual Environments
iSee comes with a range of 3D virtual environments that are free to use as part of our standard concurrent user license packages. If these don't suit your needs, you may want to invest in a custom environment that can be tailored to your specific application.
Note that an organisation may have a large number of sessions, each with the environment that meets the needs of the users. A school or university for example may have separate iSee sessions for each class, teacher or project group. You can therefore think of iSee environments as building blocks to an infinitely expandable campus.​
In addition to individual environments, we can combine a number of environments together as zones within a multi-zone environment session. A number of these are available for free as part of a standard concurrent user license.
FREE INDIVIDUAL ENVIRONMENTS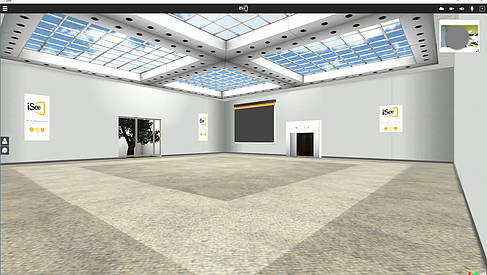 The dynamic room is simple, but powerfully adaptable to your needs. The size of the Dynamic Room can be changed on the fly to suit the activity and large numbers of display boards can be added to the walls at will. This room is ideal for tutorials, group work, meetups, art galleries and trade fairs.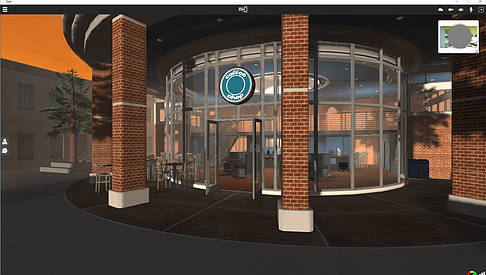 The coffee shop is an ideal casual meeting place where it is easy to split up a larger group for more private conversations.
The multi-purpose area is an ideal space for trade fairs, group work, pitch sessions, careers expos and product expos. It has seven side halls that are linked via a main hall. It has plenty of signage boards that can be used for product or sponsor images.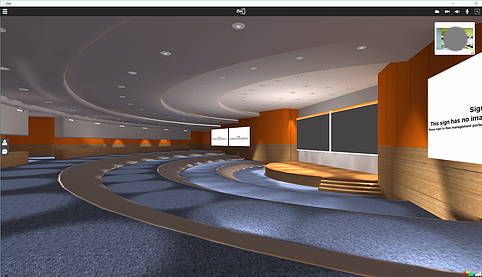 The lecture theatre is an ideal space for larger scale, more formal presentations, lectures, demonstrations or performances. This can be a key component of a virtual conference venue or education campus.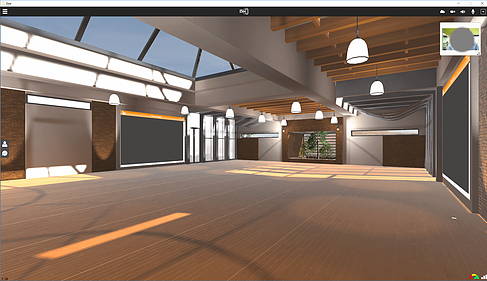 The meeting room is designed for smaller workshops, group meetings or board meetings. Display boards can be added to walls in several places to display and share information. the room is small enough to be intimate, but large enough to allow several conversations to take place at once if there is a need to break into smaller groups.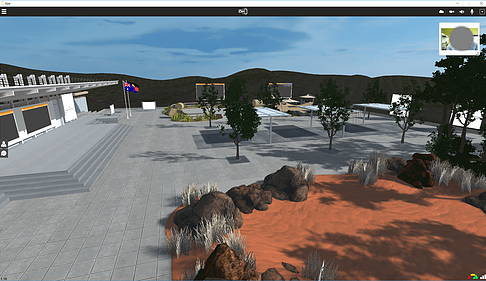 The outdoor world (sometimes called virtual playground or outdoor area) is an interesting, spacious and well appointed meeting place for young and old alike. Originally designed as a free play area where young distance education students could play and make friends, it is now a popular environment for dynamic workshops, ice breaker activities and relationship building where people want to feel free to discover new ideas and seamlessly move between small and large groups.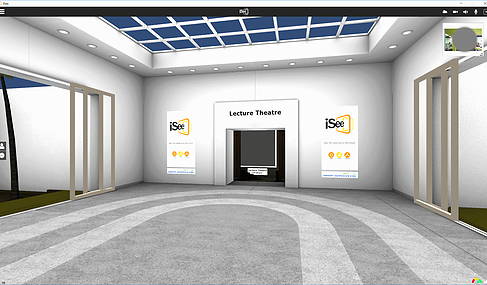 The Classroom environment is one of our oldest environments and includes a small lecture theatre, foyer, breakout room and side outdoor spaces. It's a good space for small conferences that want attendees to be able to move seamlessly between more formal presentations and networking conversations.
The UOW room is similar to the multipurpose area, but is more intimate and designed for smaller scale pitch sessions and product expos of up to a maximum of 30 participants. There are lots of display boards for presenting content but no signage boards.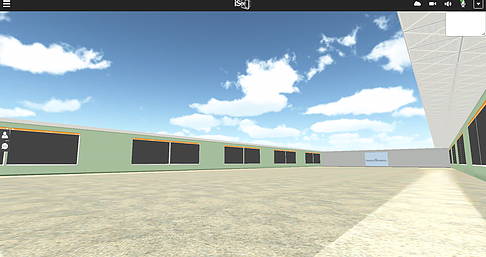 The static room is designed as a gallery room for academic poster sessions, mini trade shows, careers fairs and art exhibits. The room is designed to be simple yet adptable, with all four walls able to host dynamic boards. There are also two signage boards at each end so that the space can be branded for the activity.
The static room long is similar to the static-room but is twice as long to cater for larger academic poster sessions or exhibits. Keeping the room rectangular creates a natural path for attendees and keeps them together enough to stimulate networking opportunities.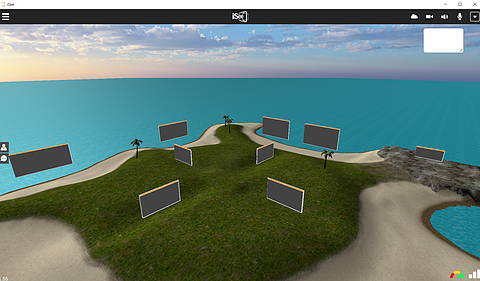 The expo space is designed to be a fun and relaxed multifunction networking and conference space. The space allows attendees to explore the isalnd and mingle around content boards for discussion. There is also a beach presentation area with an autoarrange function for up to 36 people. As an easter egg there is a secret path to the top of the lighthouse that gives a view of the whole island.
The iSee Holodeck is a fantastic flexible environment that can be whatever you want it to be! Simply upload a 360 image or phone panorama to bring your community together in your custom world. Perfect for virtual site visits, excursions and tours, or simply to make your daily meetups more relaxing and interesting. Smart board functionality in the space allows for content sharing as well.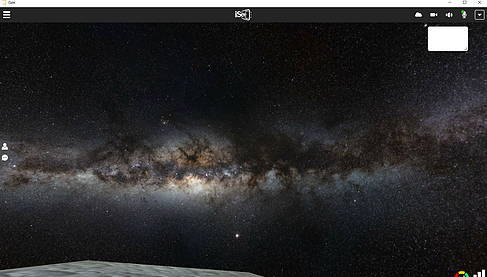 The Planetarium Moon is a great place to explore and brings your team or class the best view of the Milkyway with 360 image from https://www.eso.org/public/images/eso0932a/. Run around the moon to explore and search for the Earth in the night sky. It's the ultimate planetarium for you and your friends to explore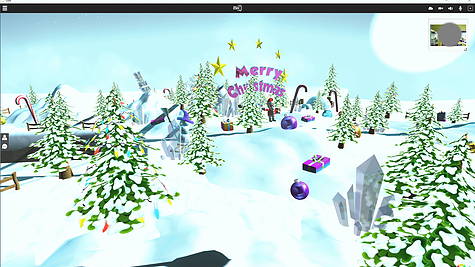 The Christmas environment is a fun play environment for children in the festive season. It is also an example of the wide range of styles that are possible in virtual 3D environments.
FREE MULTI-ZONE ENVIRONMENTS
Small Campus/Convention Centres
Small Convention Centre 1
The small convention centre 1 multi-zone environment is ideal for virtual workshops and includes both the uowroom and outdoorworld zones. The outdoorworld is great for creative groups exploring new ideas while the smaller scale uowroom helps groups come together and share their work.
Medium Campus/Convention Centres
Medium Convention Centre 1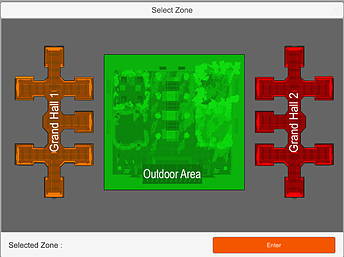 The medium convention centre 1 is designed for larger scale industry conferences that want access to both product/service showcase areas as well as areas for networking and small workshop presentations.
Medium Convention Centre 2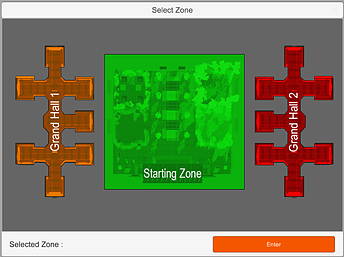 The medium convention centre 2 is similar to mediumconventioncentre1, but with a clear 'Starting Zone' which can be structured to guide first time visitors.
Medium Convention Centre 3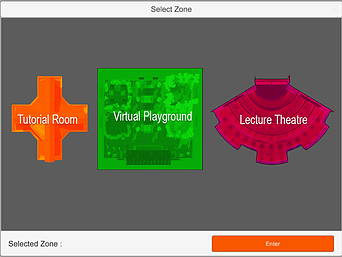 The medium convention centre 3 is designed as an adaptable conference centre with a lecture hall for keynote presentations, a virtual playground for parallel workshop presentation and a uow room (Tutorial Room) for vendor and group presentations.
Large Campus/Convention Centres
Large Convention Centre 1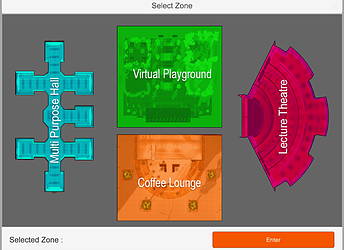 The large convention centre 1 is designed as an adaptable convention centre with enhanced networking spaces and a moderate amount of vendor space.
Large Convention Centre 2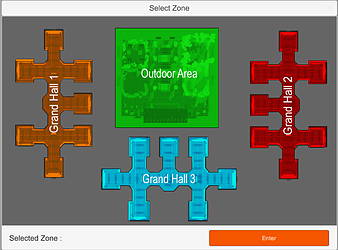 The large convention centre 2 is similar to mediumconventioncentre1, but with an increased product/service showcase area. This can also be used for larger scale hackathon's etc. where a large amount of small group work space is required.
Large Convention Centre 3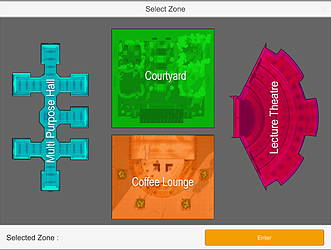 The large convention centre 3 is similar to largeconventioncentre1 with a more formally titled outdoorarea space for more conservative audiences.
Extra Large Campus/Convention Centres
Extra Large Convention Centre 1
The extra large convention centre 1 multi-zone environment is an ideal teaching campus with a several different zones and social areas that can be matched to class activities.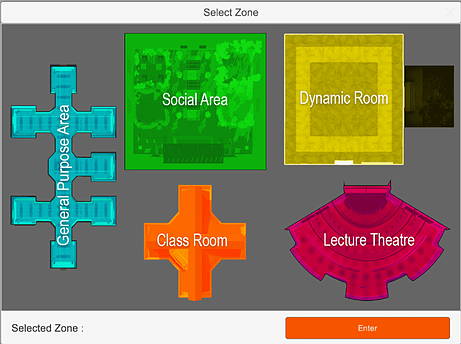 The virtual academiestrial is your ultimate multi-zone campus for any class. It includes a wide range of learning, team work and presentation spaces that are adaptable to almost any teaching and learning scenario.
Mega Campus/Convention Centres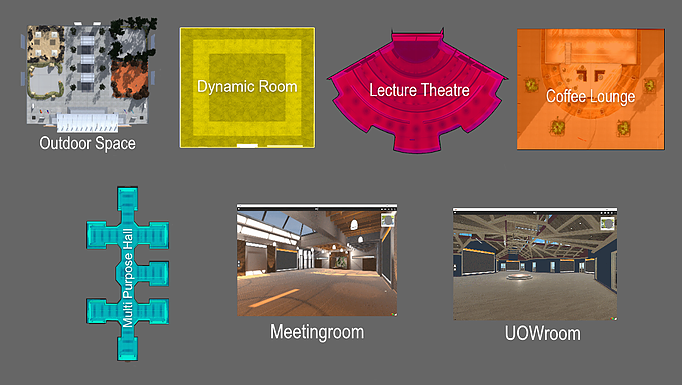 The mega convention centre combines all of our most popular freely available environments into a single mega campus. This convention centre has specialist rooms for all types of formal and informal collaboration, training, networking and meetup activities.
EXAMPLE CUSTOM ENVIRONMENTS
Here are some example custom environments that we have developed in collaboration with our customers. The development of custom environments is a one off investment that once developed is available for use by your organisation on an ongoing basis. The iSee team can manage the entire development of the custom environment for you, or if your organisation has considerable in house expertise, we can advise on creating environments that are iSee compatible and install them for your organisation. ​
Organisations can add new custom environments at any time. Contact us to discuss the creation of custom environments for your unique application.
Management Boardroom (custom)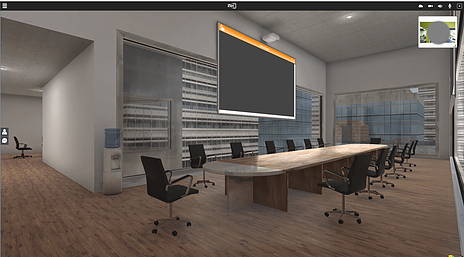 This custom environment was created for a masters level University course focused on multiparty cross table negotiations. The environment consisted of a cross table negotiation boardroom with two adjacent breakout rooms for private party discussions.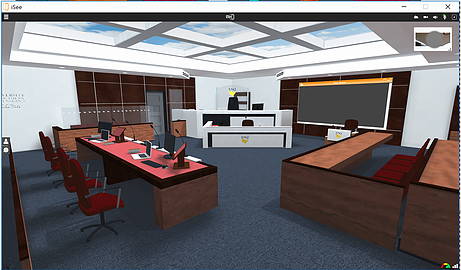 Mooting is a valuable practice for law students looking to sharpen their skills in arguing technical points of law. This virtual mooting environment was created for a Law school with a large proportion of distance education students and was built to replicate the physical moot court already present on campus.